也间设计/不对称美学
本案位于杭州转塘灵山郊外,是Scènes 盐值摄影空间二期项目,
整个空间500㎡,分上下4层。
跟传统设计中所讲究的对称美学不同,设计师在这个项目中主张"不对称主义",呈现一种不对称却包容的美。
几何体块和异形的穿插,
再搭配奶咖色+温暖红棕+曲面设计
空间丝滑流畅,营造温柔的治愈感。
整个空间开放大气,
去掉不必要的细节和线条,
通过空间的巧妙分割,设计师希望让室内变得有趣而灵动。
The space is located in the outskirts of Hangzhou,this project is the second phase project of Scènes Photography Space.The whole space of 500㎡, divided into 4 layers.Different from the symmetrical aesthetics of traditional design, the designer advocates "asymmetrism" in this project, presenting a kind of asymmetrical but inclusive beauty.Interspersed with geometric blocks and shapes,With milk coffee + warm red brown + curved design.The space is silky and smooth, creating a gentle healing feeling.The whole space is open to the atmosphere,Remove unnecessary details and lines,Through the clever division of the space, the designers hope to make the interior interesting and dynamic.
01
WAVE&ARTING
曲线与艺术
一楼入口处的波浪形入户墙,各种维度的曲面重组叠加,呈现出优雅的弧度,打破直线建筑的规则,丰富的变化转折,指引着我们进入空间内部。
The undulating entry wall at the entrance of the first floor shows an elegant radian by recombination and superposition of curved surfaces of various dimensions, breaking the rules of linear architecture and guiding us into the interior of the space with rich changes and turns.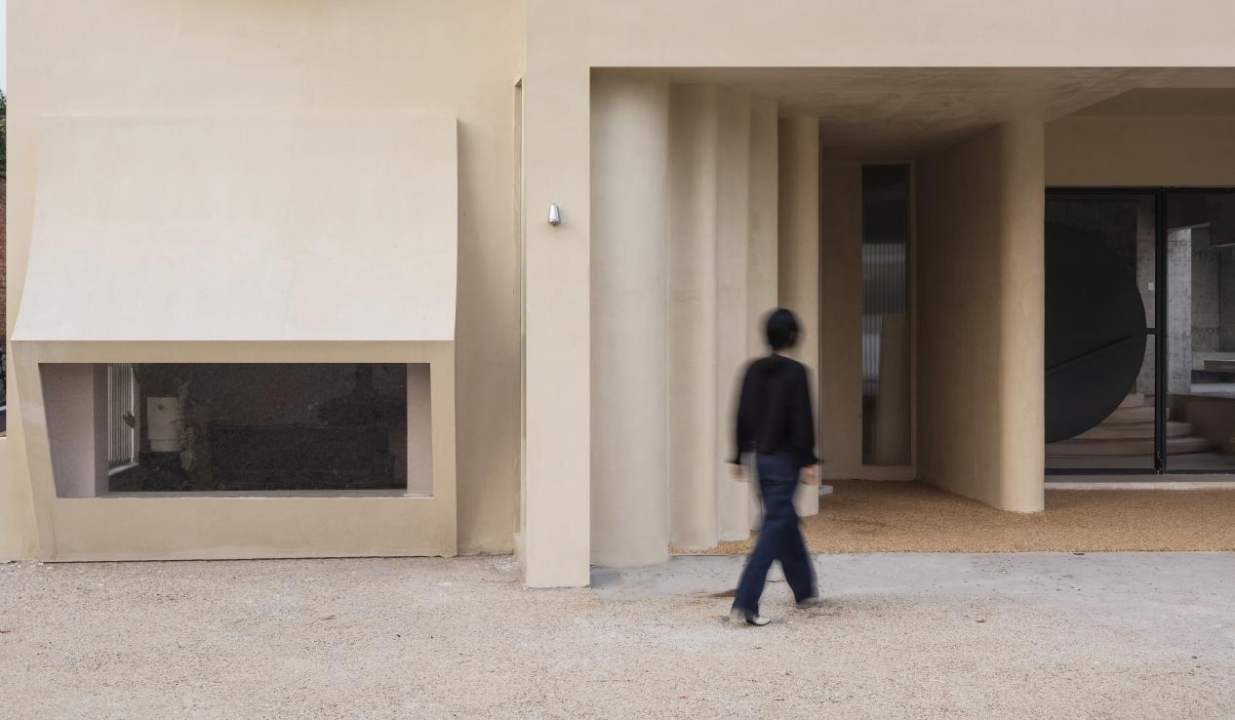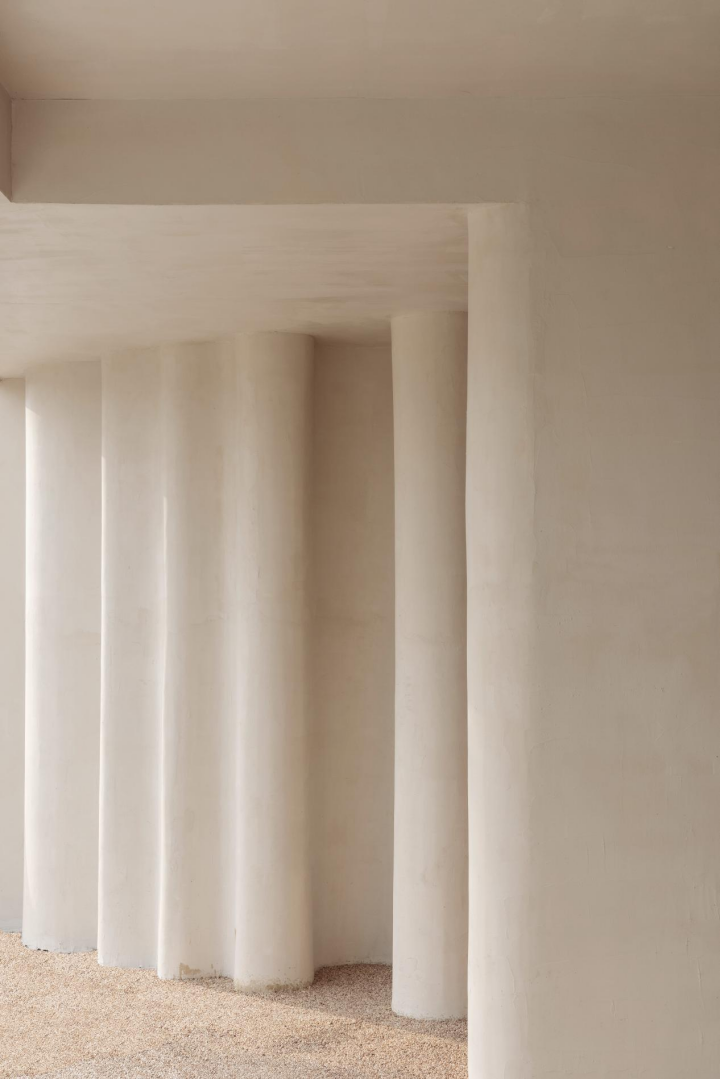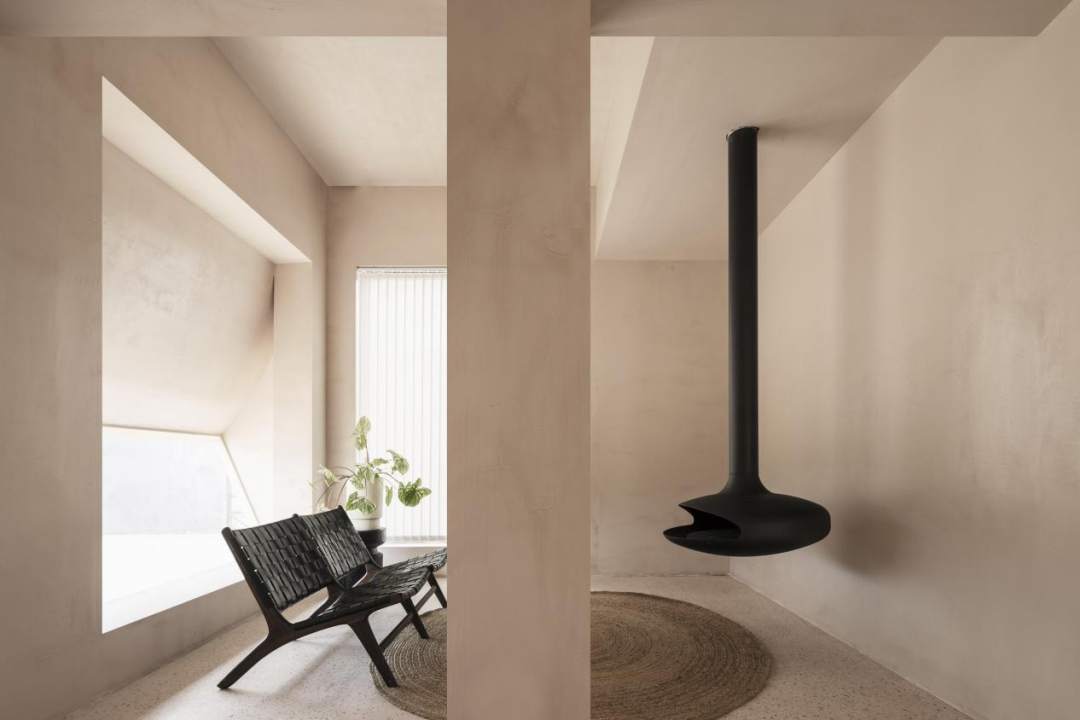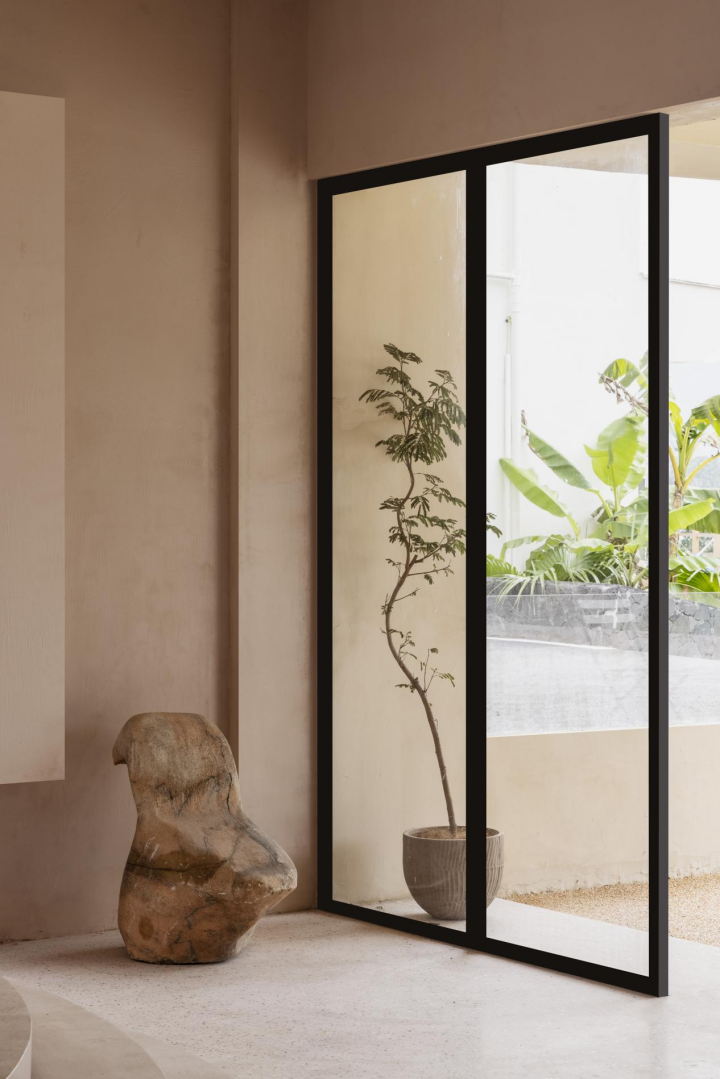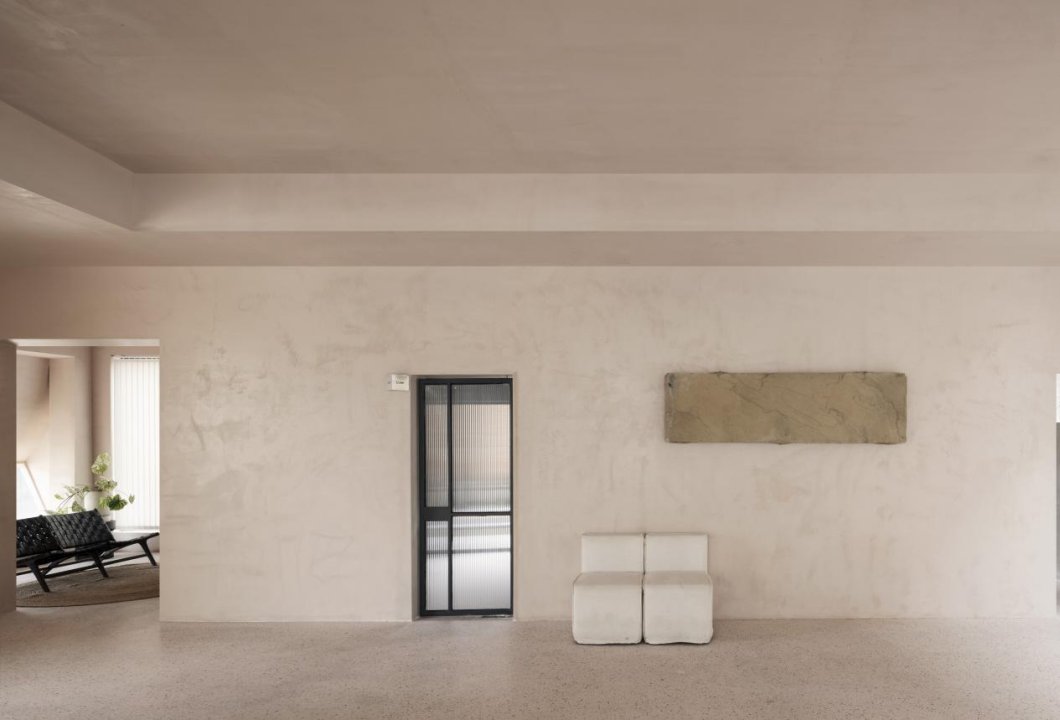 02
3-DIMENSIONAL FORM
立体的形态
二楼把空间进行切割、重组,呈现出一种分散却又统一的不确定感,多层次的体块之间的关系,
视线贯穿,空间始终是丰富而又活泼的。
The second floor cuts and reorganizes the space, presenting a dispersed but unified sense of uncertainty, the multi- level relationship between the volumes,Throughout the line of sight, the space is always rich and lively.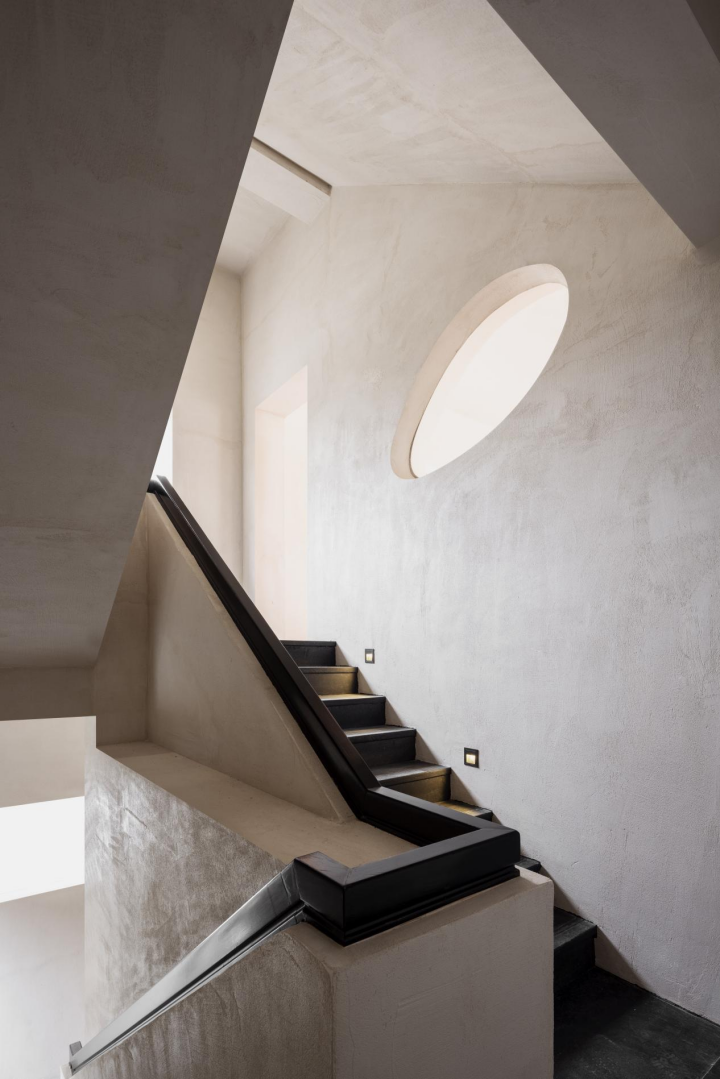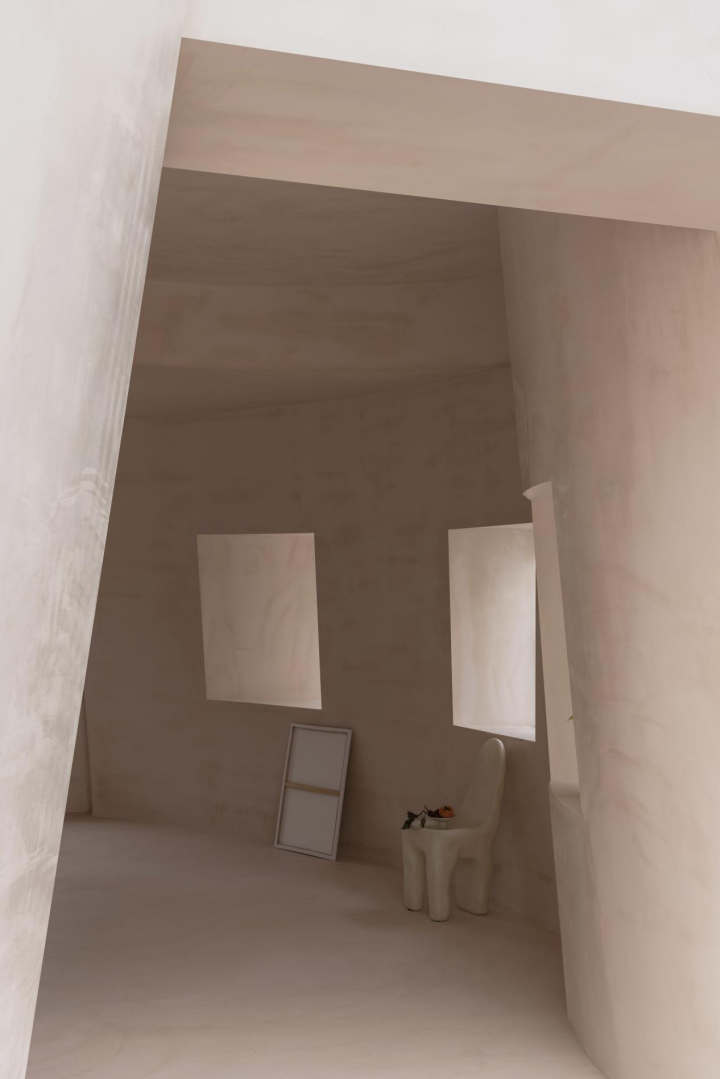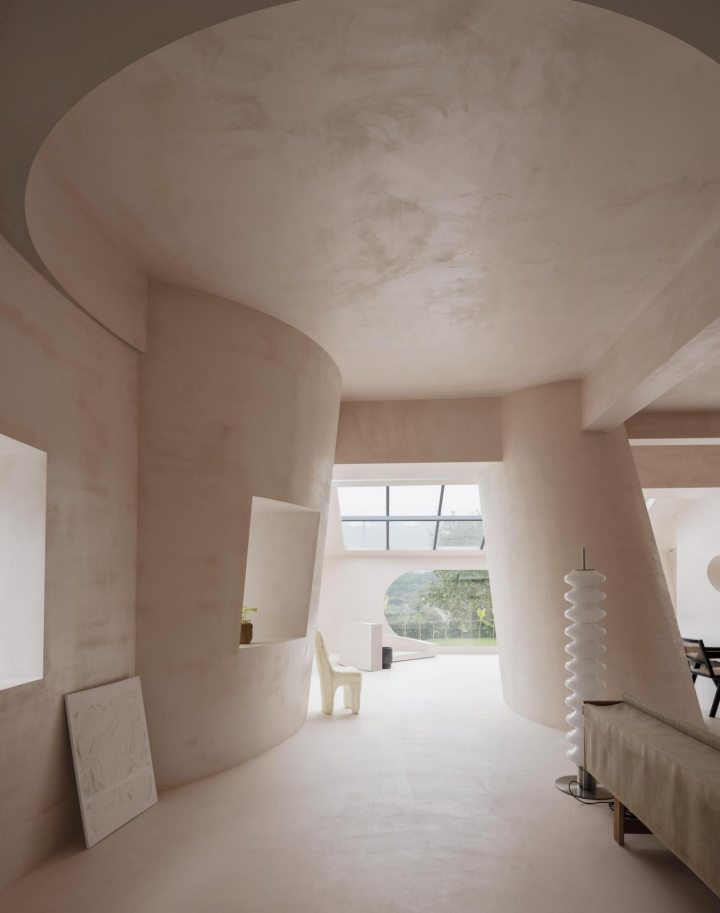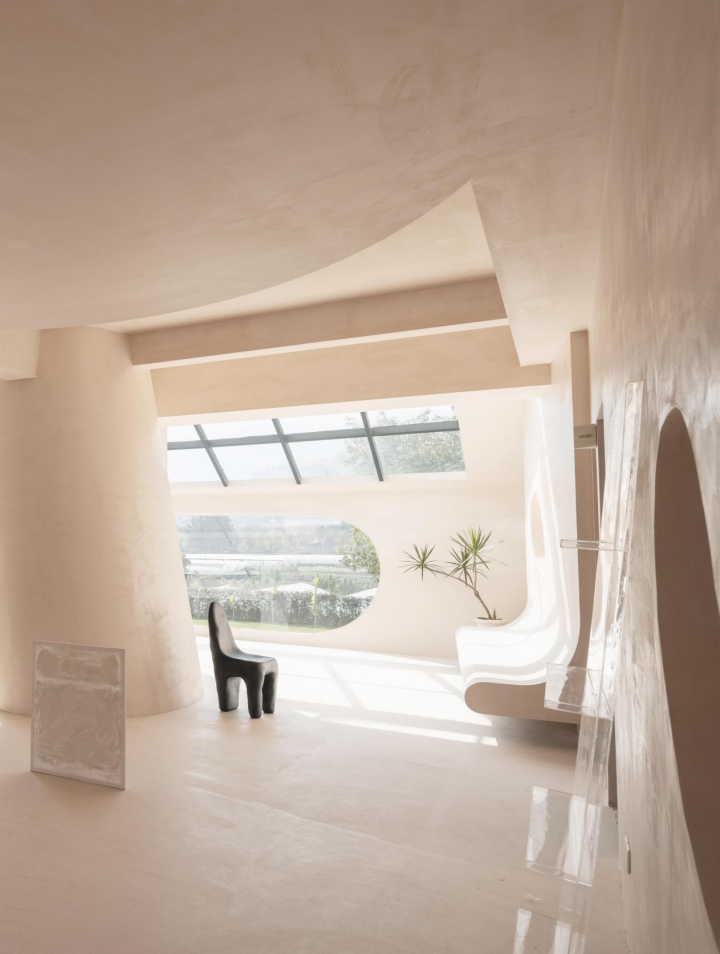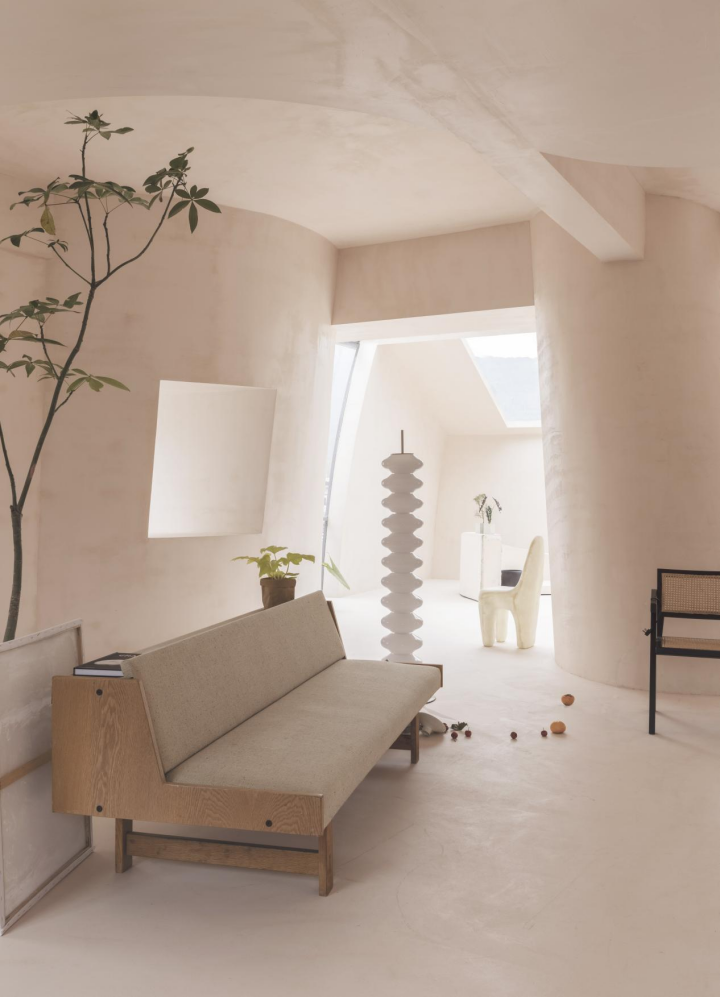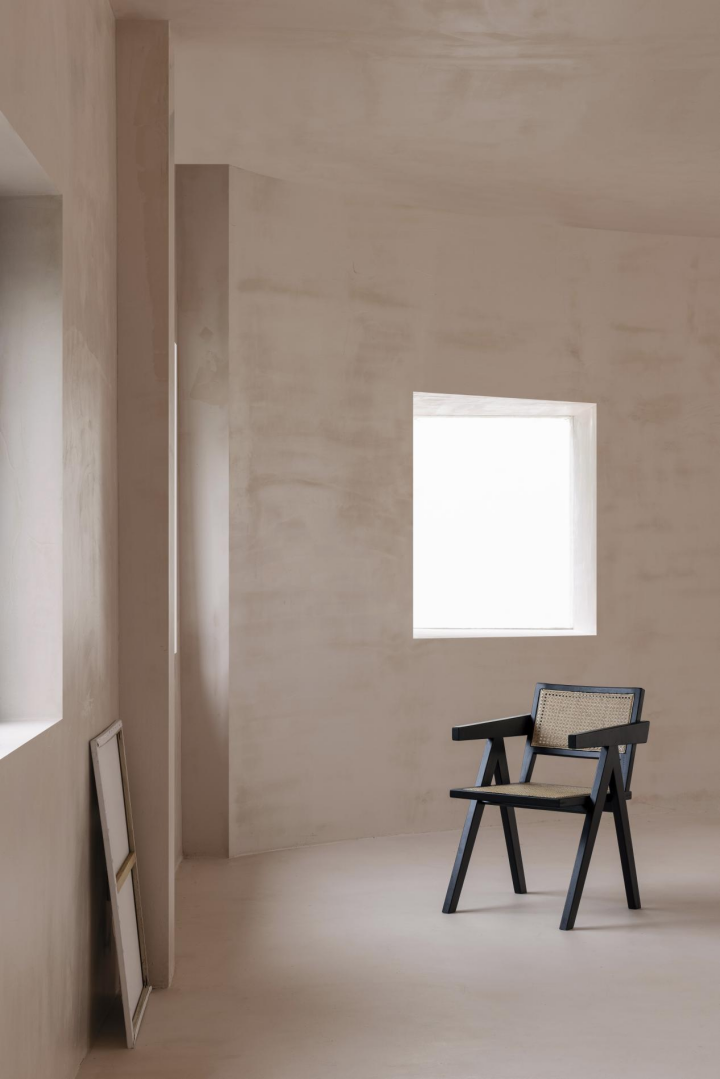 03
THE NAME OF THE EARTH
以大地之名
三楼的空间墙顶面的色系上,设计师普遍采用了大地色系:暖棕色、 奶咖色,中性暖色是调色盘中永不过时的经典,温暖又舒适,优雅又高级。
低饱和度的柔和色调,不张扬,不媚俗,
它既不像高饱和度的彩色系一样活泼奔放,也不像黑白那样简洁,它呈现的是一种温暖的,舒适的,平静优雅的空间,置身于其中可以让人身心放松。
The third floor, all top and walldesigners generally adopt earth color: warm brown, milk coffee color, neutral warm color is the classic color palette, warm and comfortable, elegant and advanced.Low saturation of soft tones, not publicity, not kitsch,It is not as lively and unrestrained as the highly saturated color system, nor as simple as black and white, it presents a warm, comfortable, calm and elegant space, in which people can relax.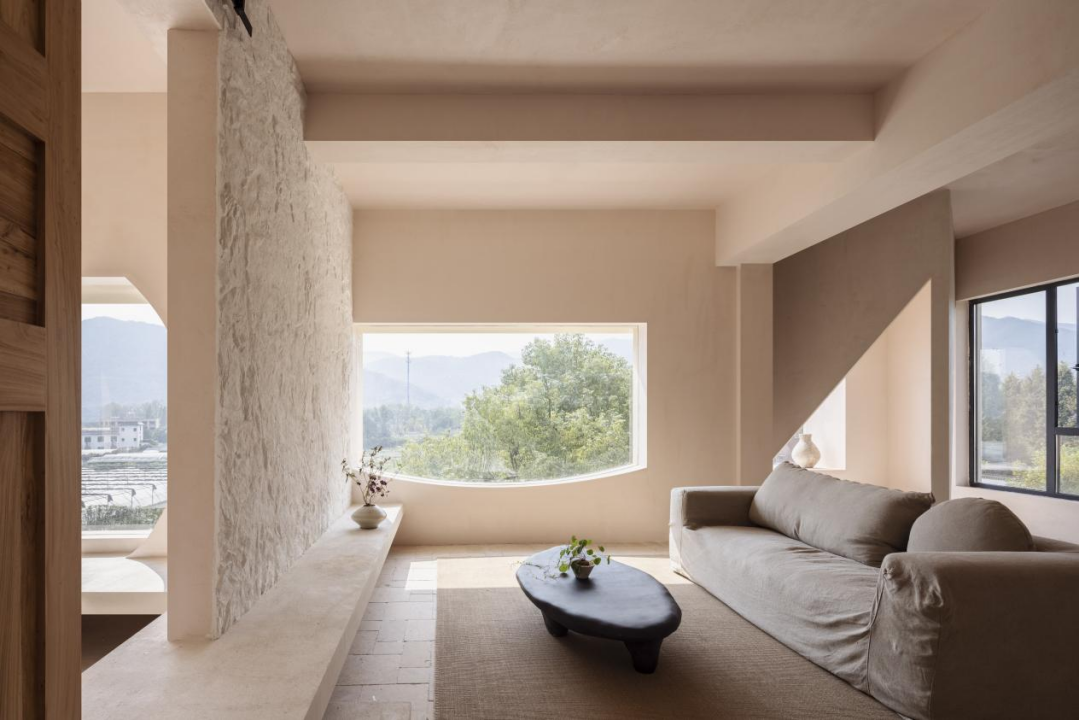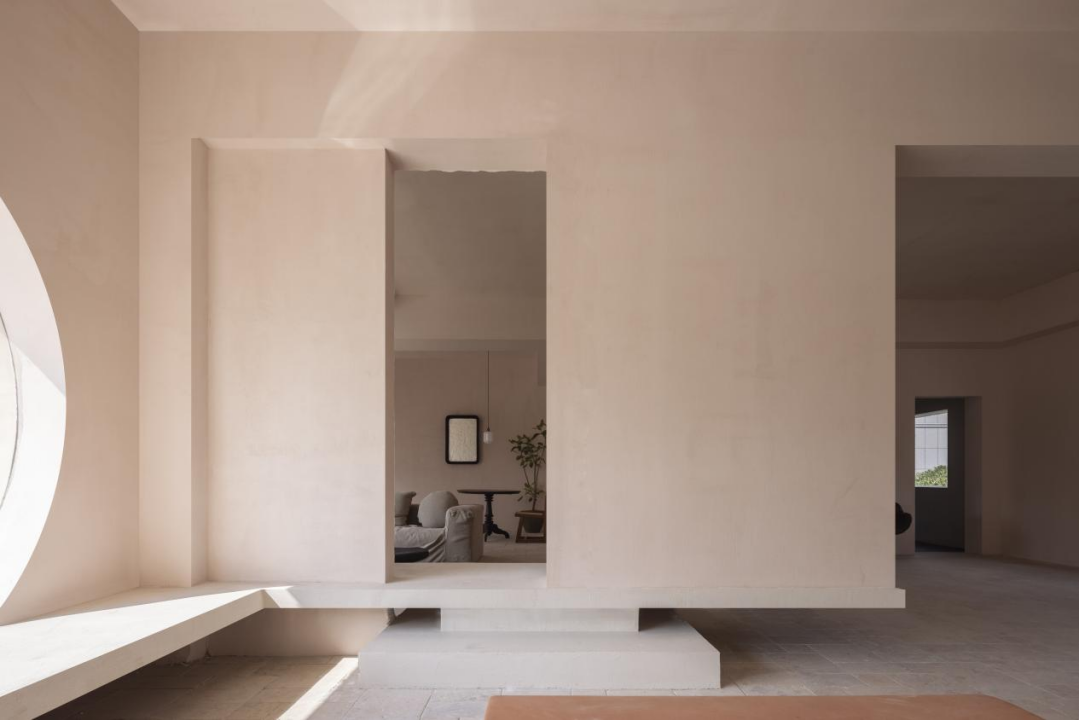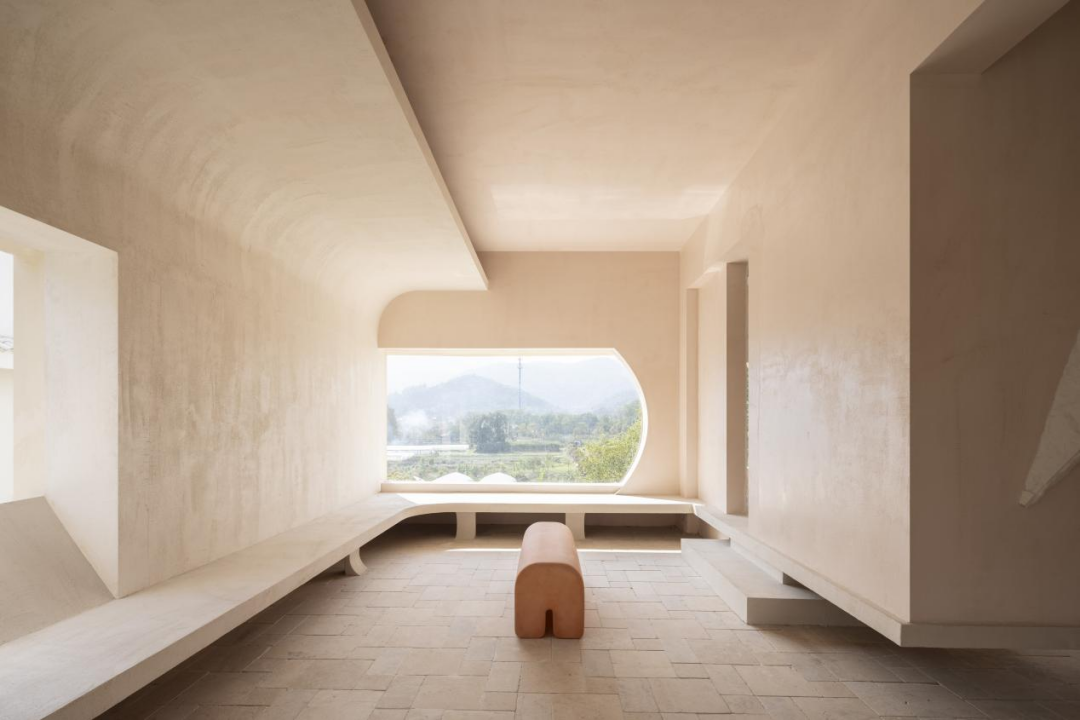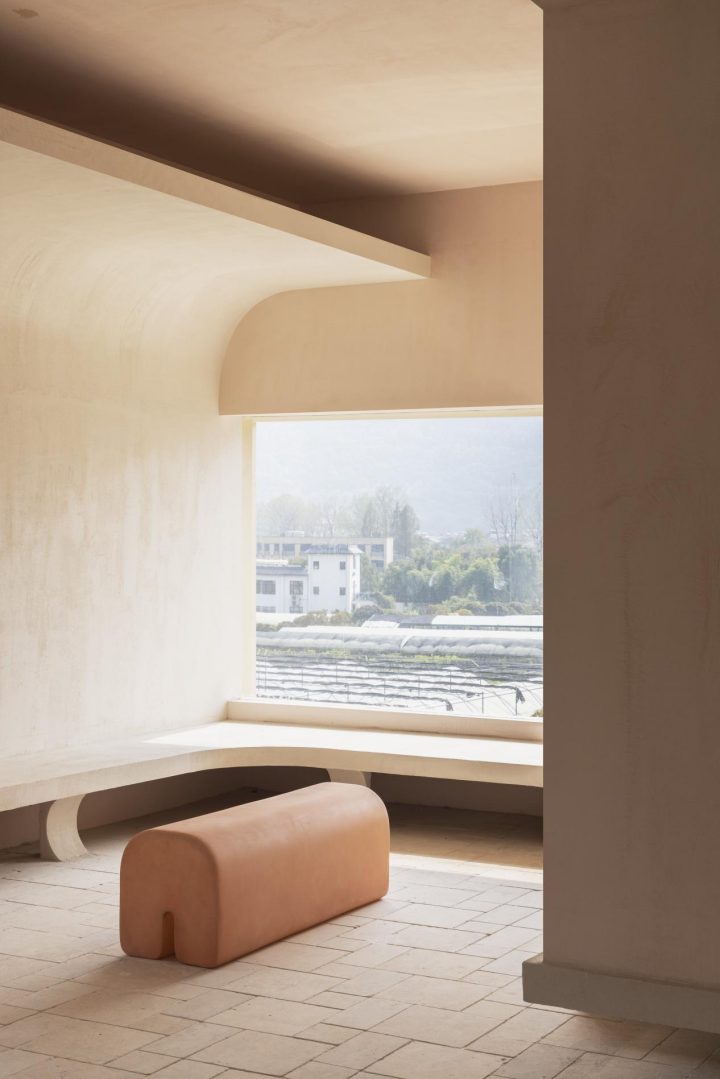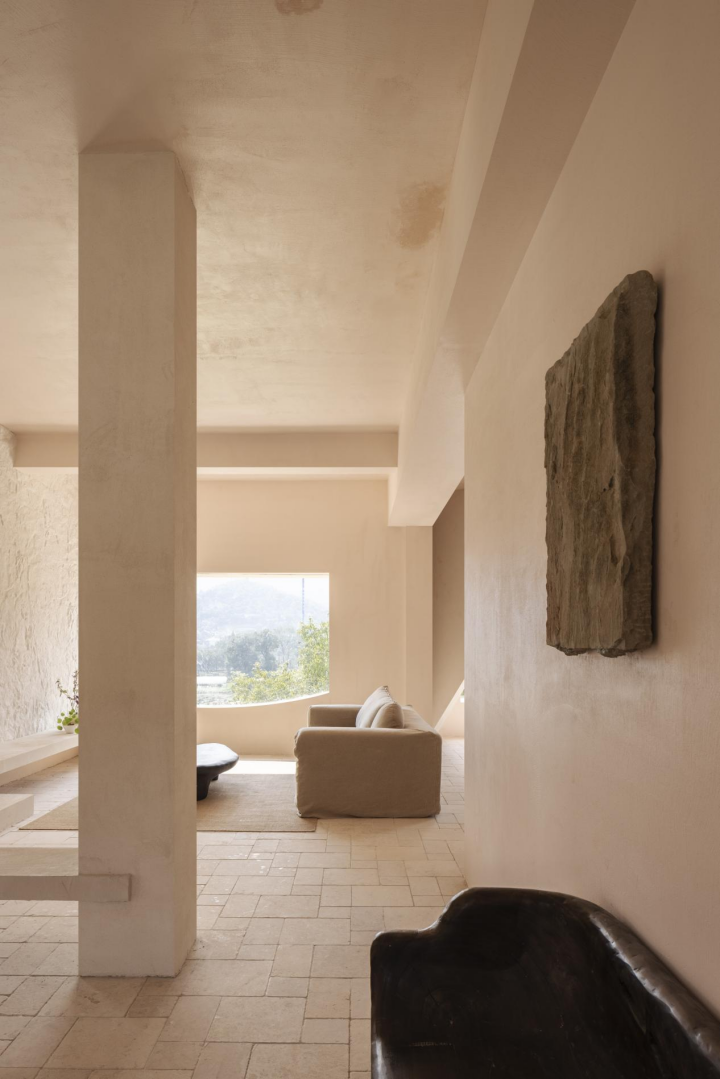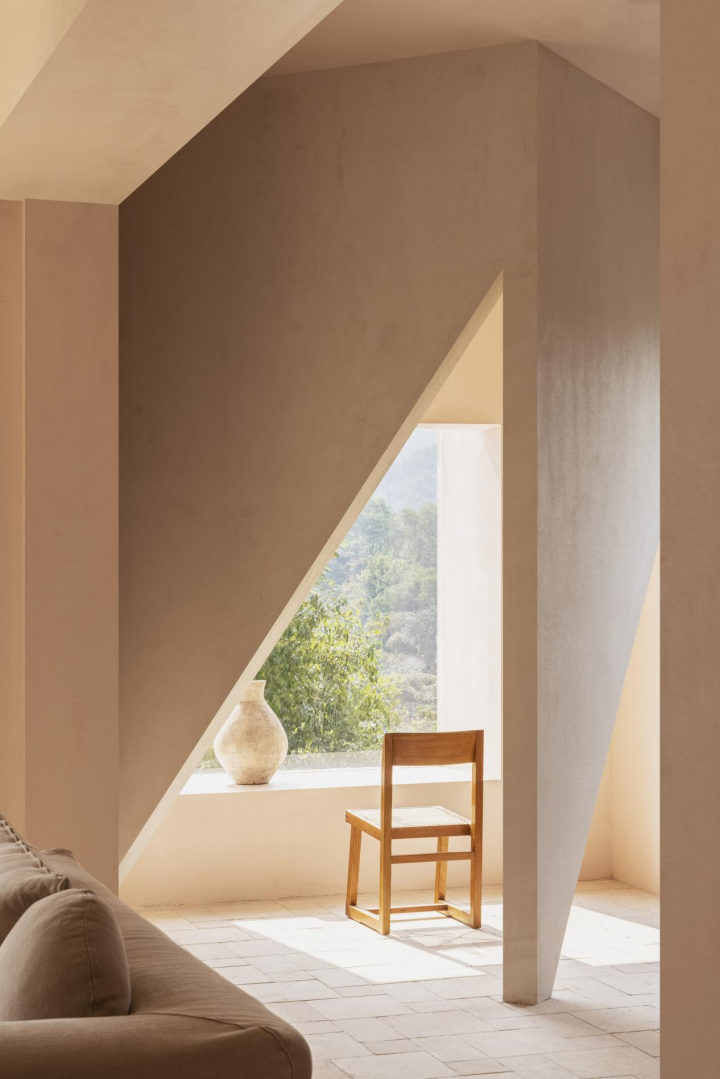 局部原木和中古家具的点缀,呈现出质朴又温暖的感觉,这大概就是大自然的迷人所在。The embellishment of local logs and medieval furniture presents a rustic and warm feeling, which is probably the charm of nature.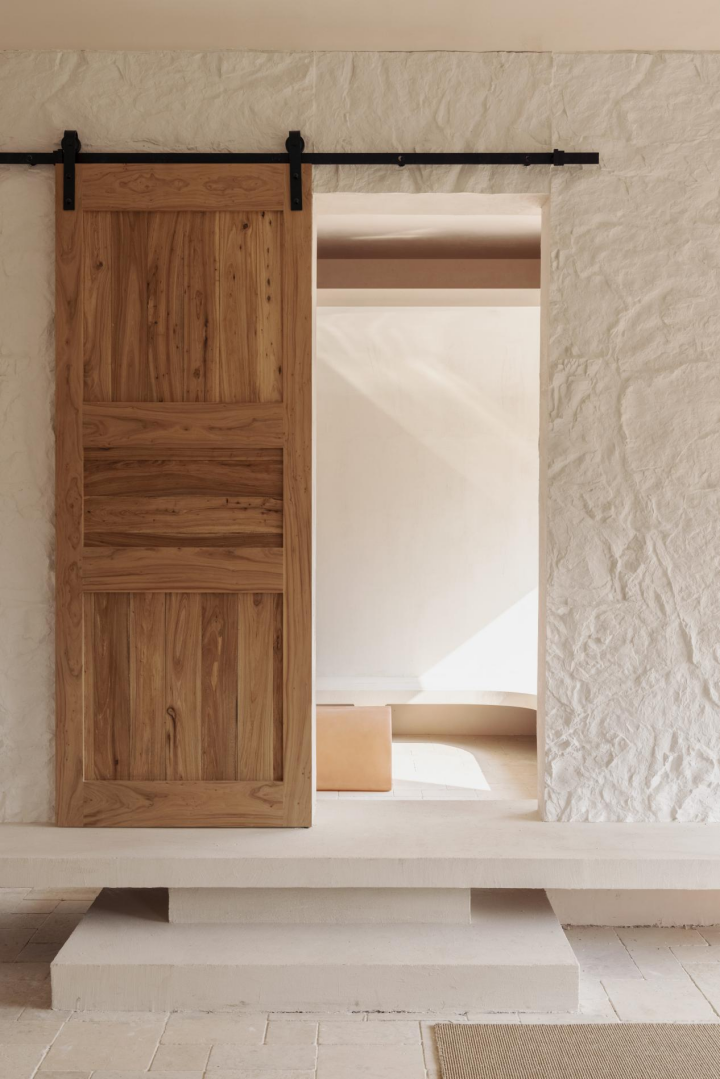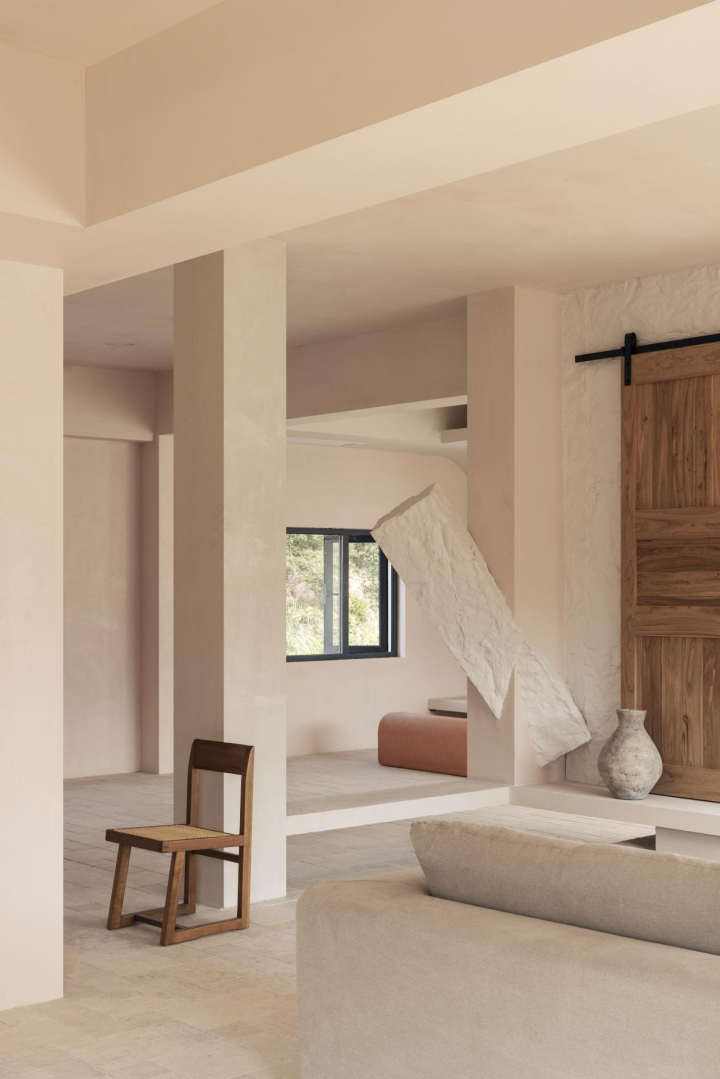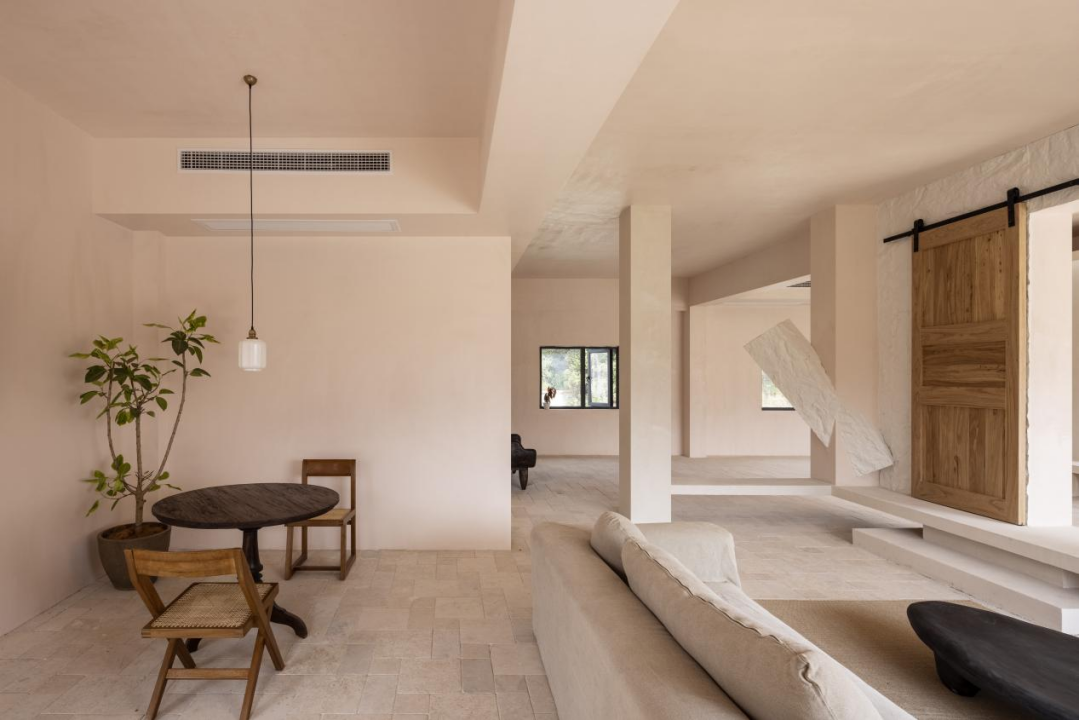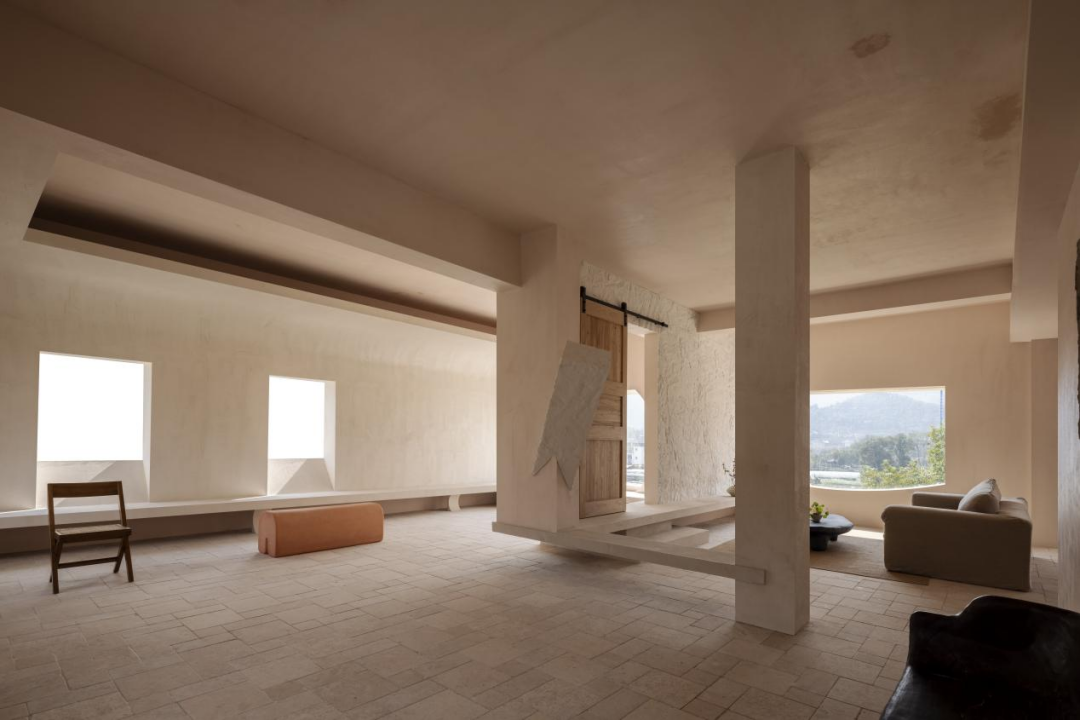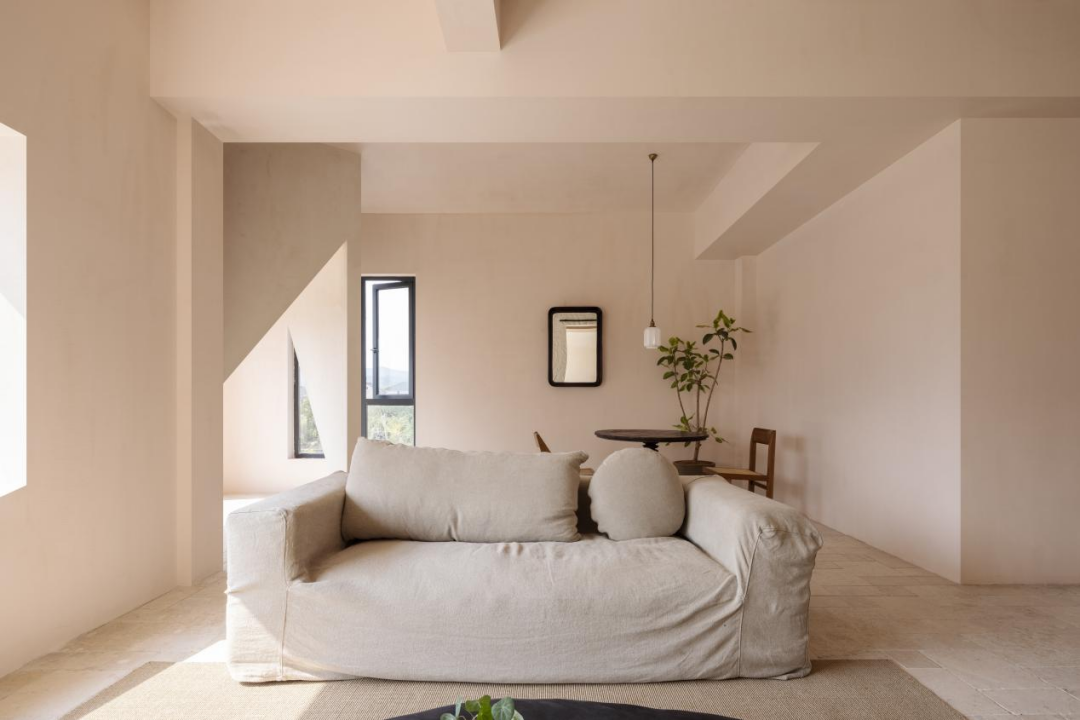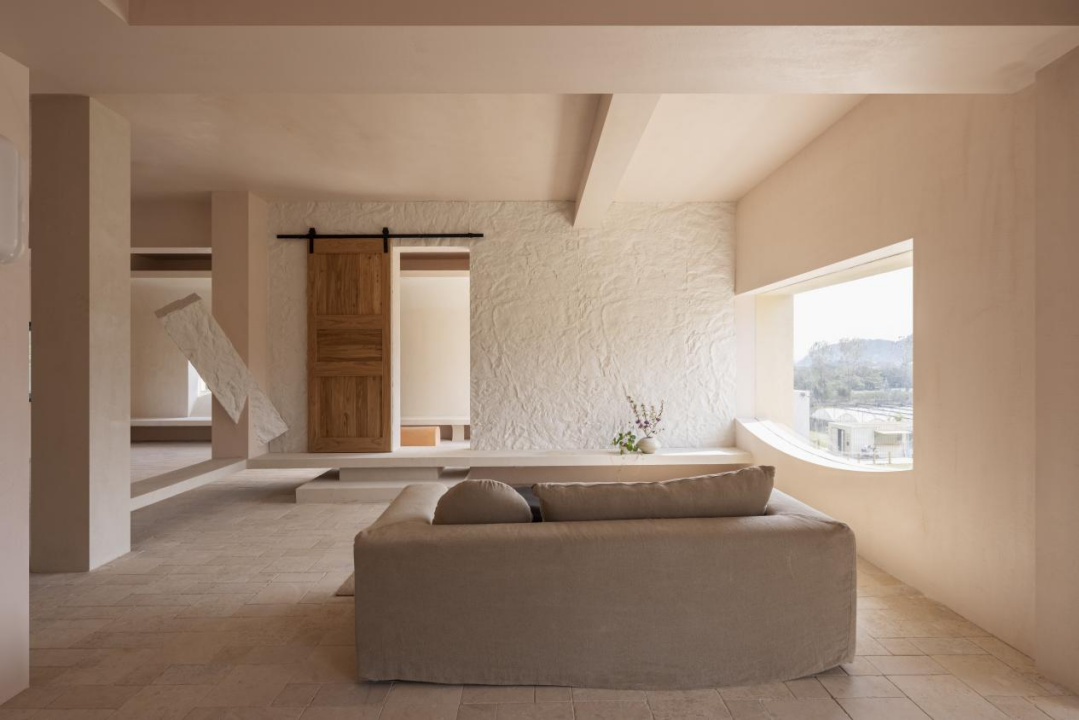 04
INTERLACING OF LINES
线条交织
顶楼露台上也是一块可供拍照的区域,几何线条和空间高低错落的分割,简单却富有美感.
The top floor terrace is also a photo-taking area, with a simple yet aesthetic division of geometric lines and space heights.