大生·织艺行
长三角地区自古以来就是主要产棉区、纺织业中心,"多种木棉,土人专业纺织",棉田占耕地面积的7成,"三分宜稻,七分宜木棉"。1895年,张謇在同处长三角地区的江苏南通开始创办大生纱厂,把其实业救国理想付诸实践,开启了南通棉纺织手工业的繁荣时代。
2021年11月,为纪念张謇创办大生纱厂、进行通海垦牧助力南通发展,成就"近代中国第一城"的事迹,打造了大生·织造.织艺行,将织造艺术的工艺和装置重新展现在世人眼前。
Since ancient times, the Yangtze River Delta region has been the main cotton producing area and textile industry center, "a variety of kapok, natives professional textile", cotton fields account for 70% of the cultivated area, "three parts suitable for rice, seven parts suitable for kapok". In 1895, Zhang Jian founded dasheng Yarn factory in Nantong, Jiangsu province, which was located in the Yangtze River Delta region. He put his ideal of saving the country into practice and opened a prosperous era of cotton textile handicraft industry in Nantong.
In November 2021, Dasheng Weaving Art was founded to commemorate Zhang Jian's founding of Dasheng Yarn Factory and the achievement of "The first city in modern China" to promote the development of Nantong. The weaving exhibition will re-present the craft and installation of weaving art to the world.
织造的海洋 The sea of weaving
改造后的展厅以棉为主题,将整个空间想象成一个布艺的世界,借由现代化的空间手法展现在新时代中织艺文化浪潮的回归,整个展厅由序区、主题装置、工艺展示区、织布体验区、观影区组成,入口处的序墙,通过一整面线艺转轴的铺排和序言,展示了棉花温暖的力量,一花一世界,引入布艺织造的海洋。
After transforming of the exhibition hall with cotton as the theme, the whole space to imagine a world of cloth art, by modern space technique show return in the knitting art culture in the new era of wave, the whole hall by sequence area, subject, device, process exhibits, weaving experience area, viewing area, sequence at the entrance of the wall, through a whole line art shaft arrangement and preface, show the power of the cotton warm, A flower a world, the introduction of cloth weaving ocean。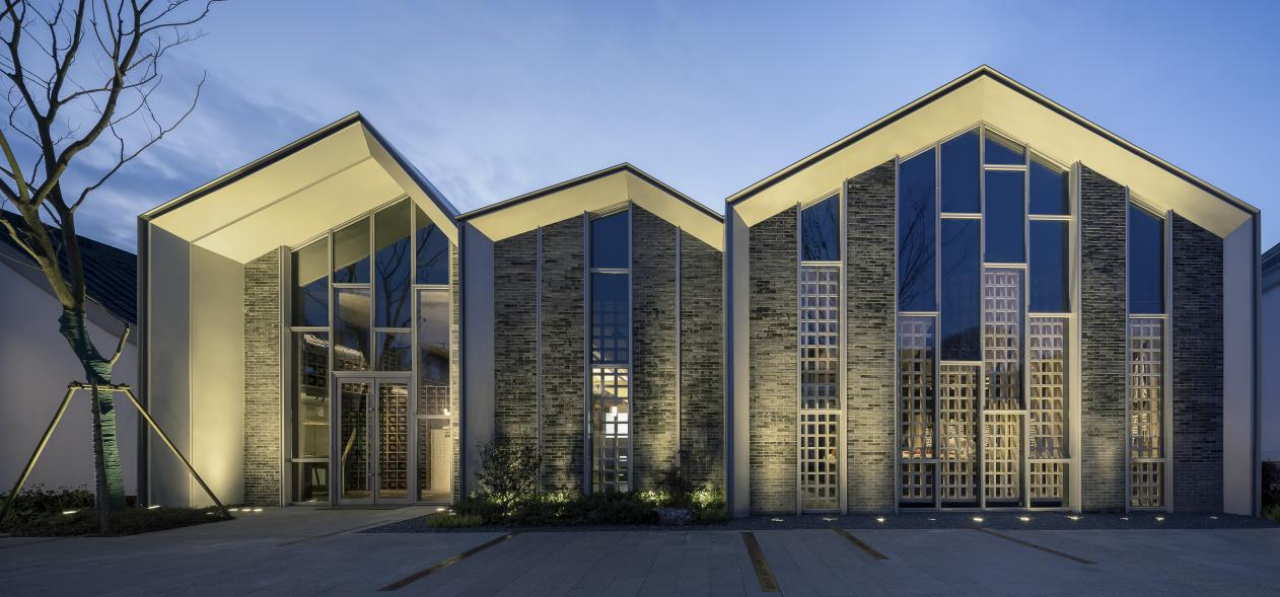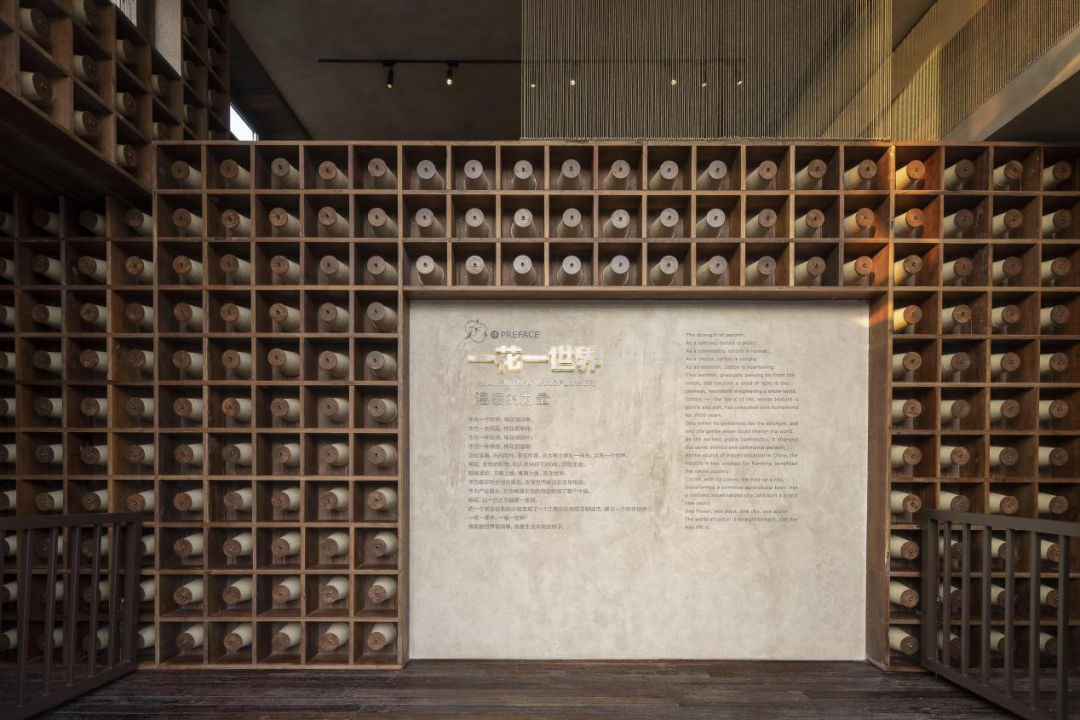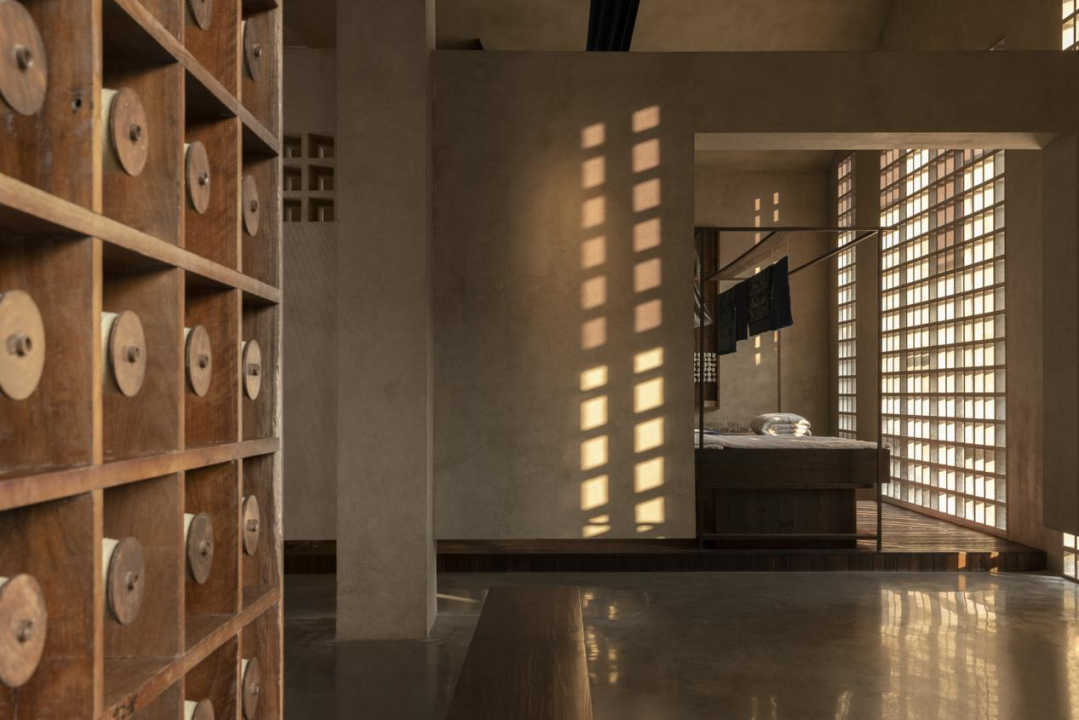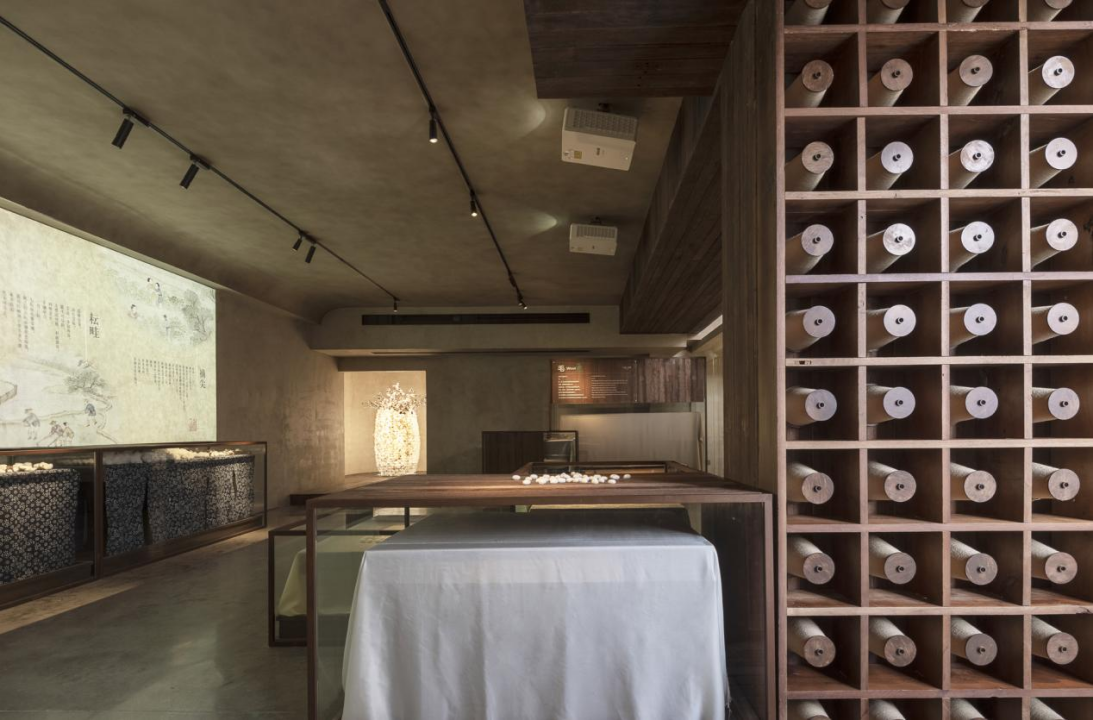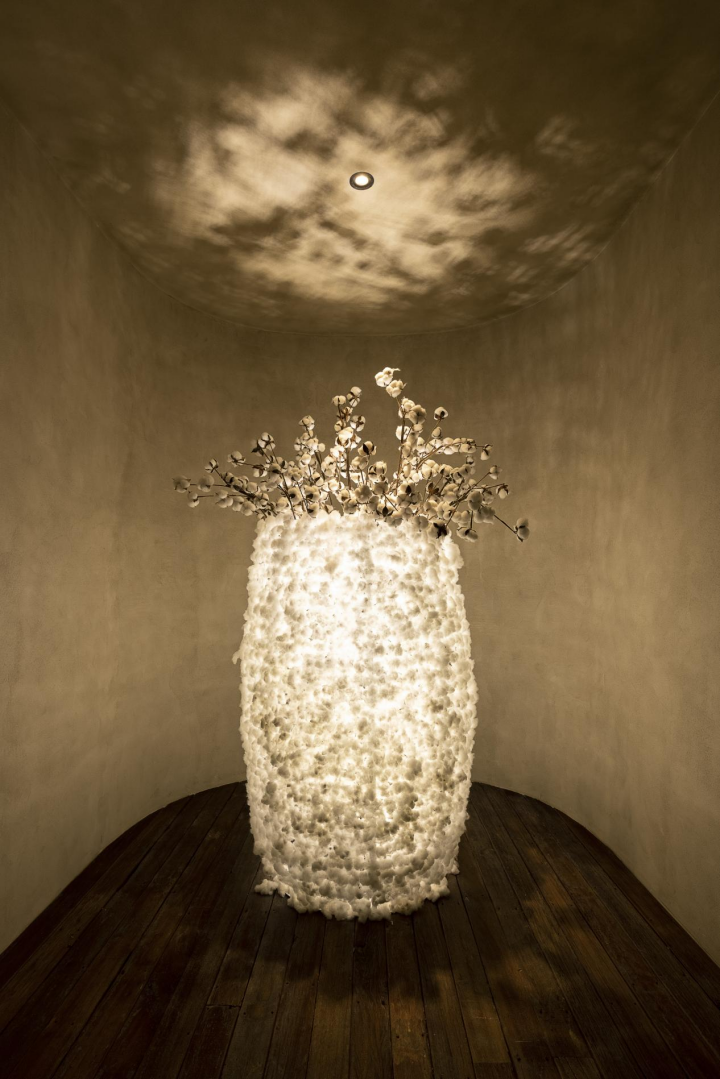 自然的博物空间 Natural natural space
整个展厅,以"温暖生命"为主题,设计师大量运用了带有原始自然肌理感的手刮漆材料,改造后的大生织艺行整个空间由原来的老建筑变成了一个带有温度的,由内而外散发出柔软但又带有力量的博物空间。布艺的世界很简单,就像生活本来的样子,本真而质朴。
The whole exhibition hall, with the theme of "warm life", the designer uses a large number of hand-scratched paint materials with the sense of original natural texture. After the transformation, the whole space of Dasheng Weaving Art Store has changed from the original old building into a natural space with temperature, which exudes softness but power from the inside out. The world of cloth art is very simple, just like life itself, true and plain.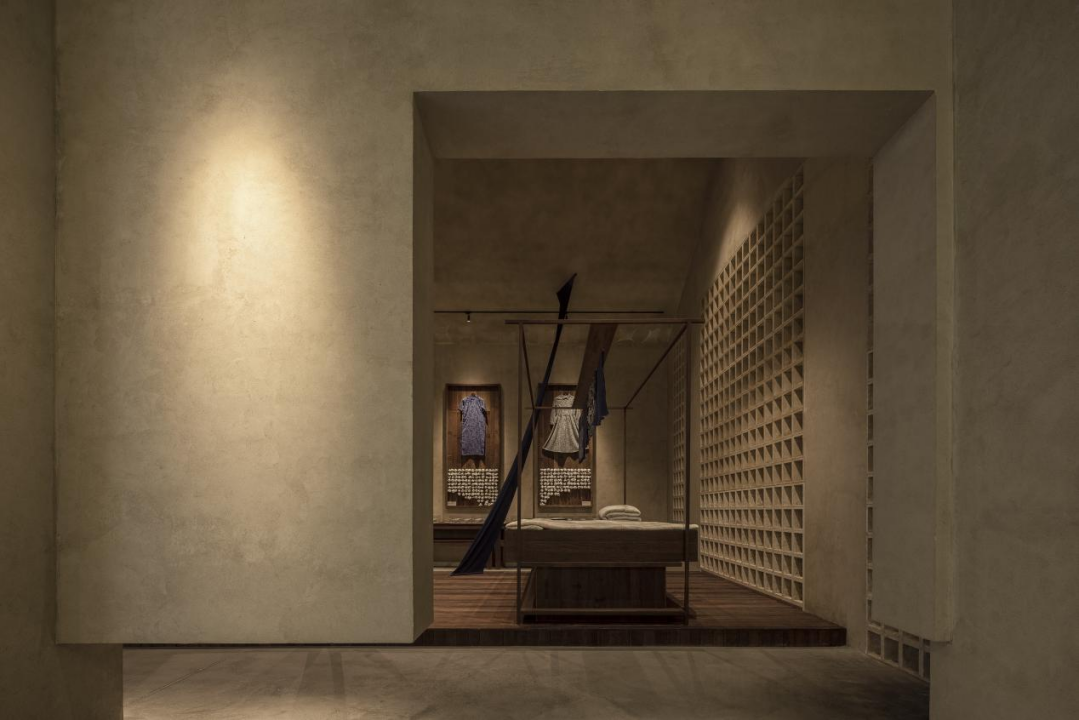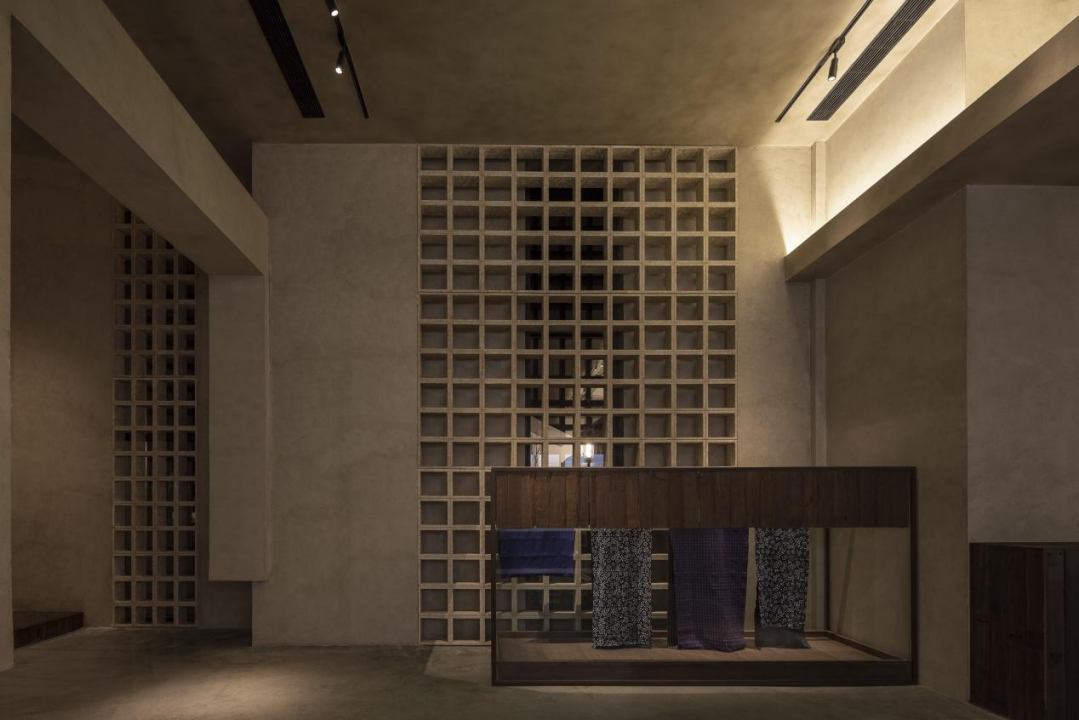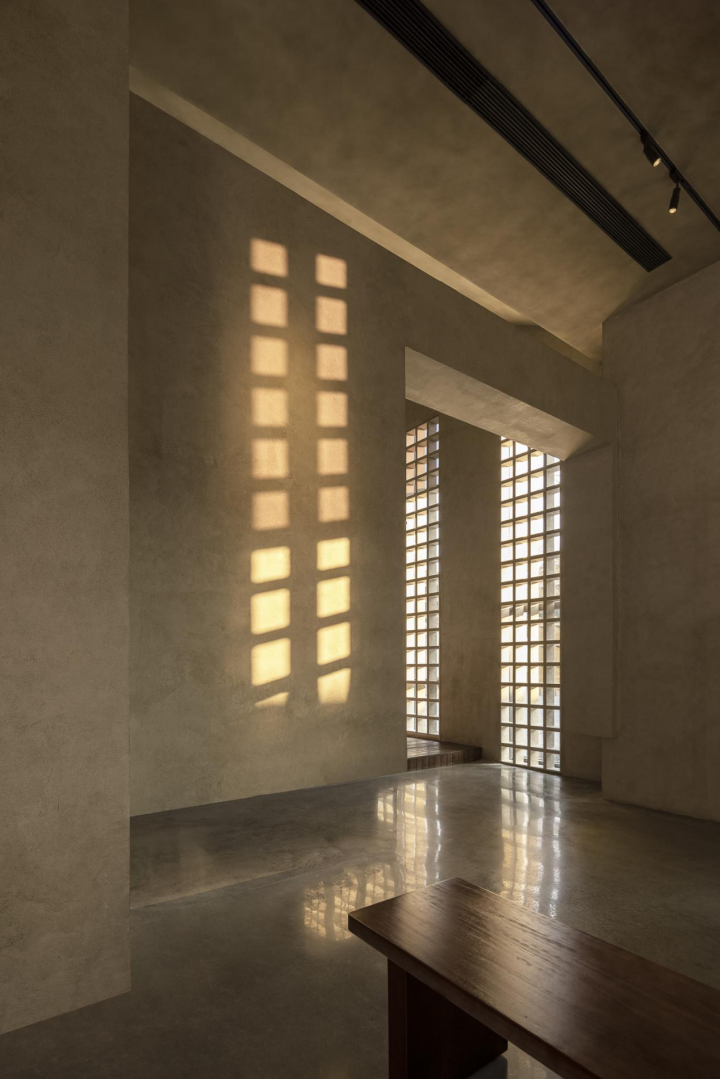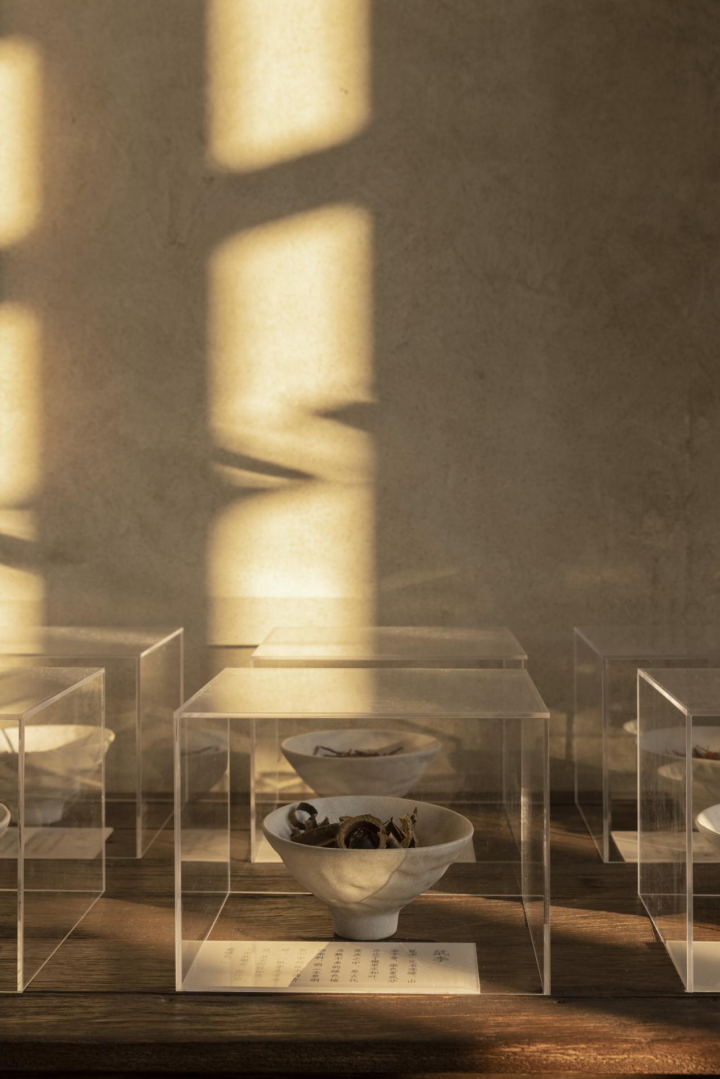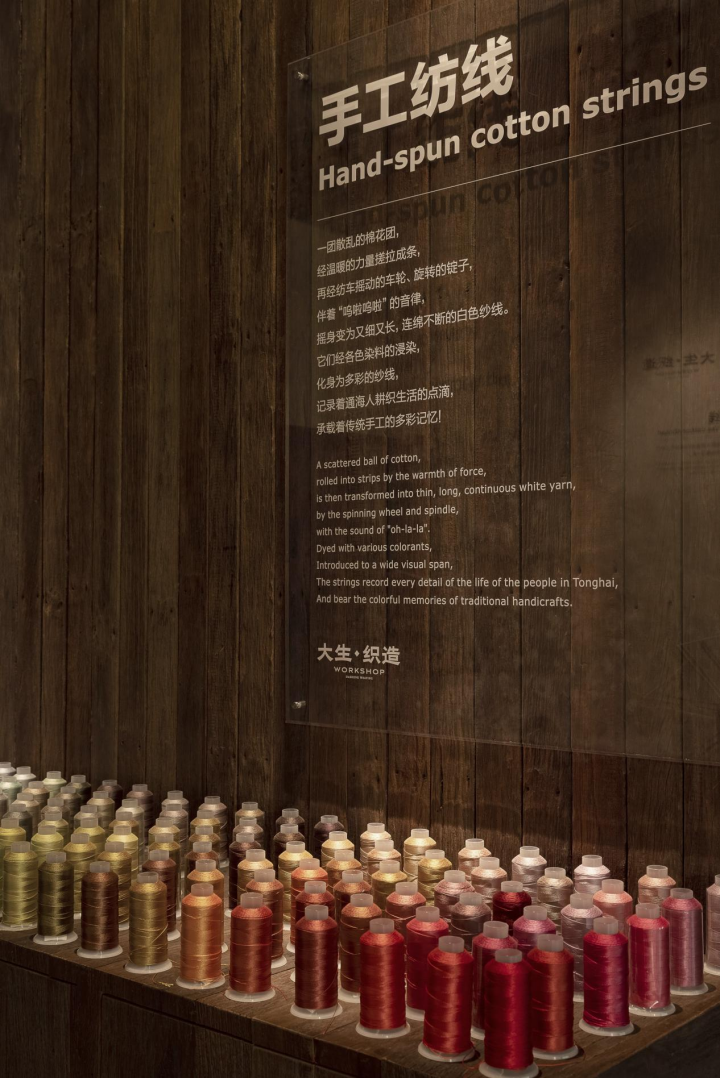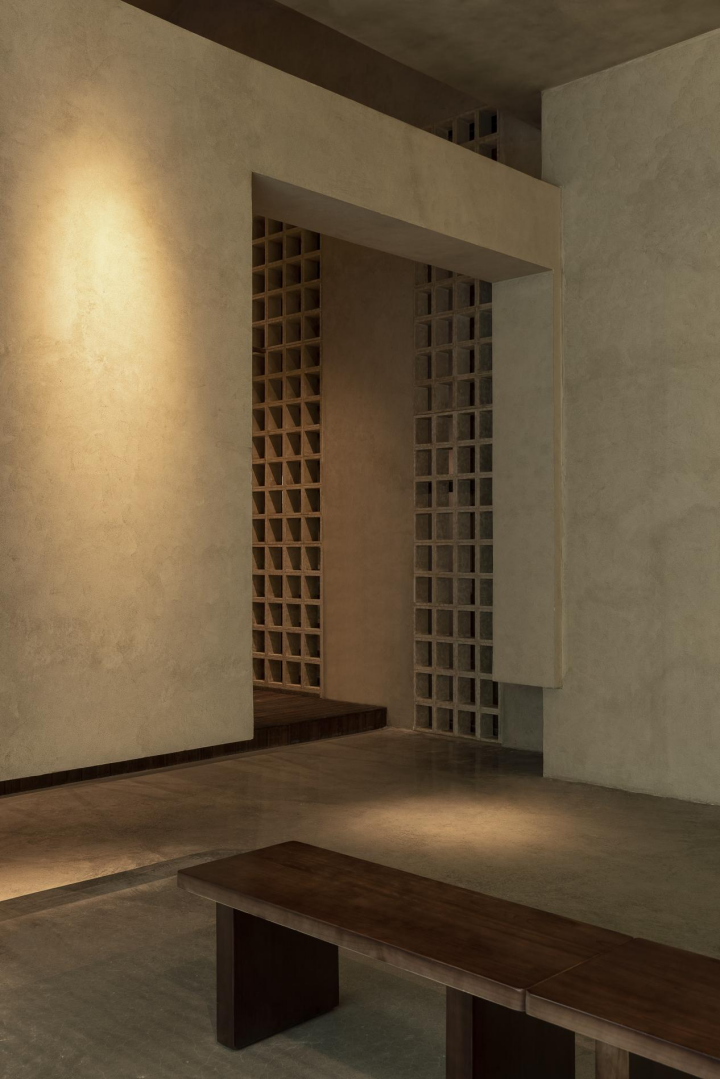 时空的融合 Fusion of time and space
在展厅停留的越久,越会有一种时空交错之感,古老的织布机,大染缸,以及衍被工艺,都以现代化的手法被重现,新与旧,古与今,在对比中焕发出新的生命力 ,将时空之感融入其中。
The longer I stay in the exhibition hall, the more I will have a sense of interlacing time and space. The old loom, the big dye vat, and the crafts of spinning quilt are all reproduced in a modern way. The new and old, the ancient and the present, glow with new vitality in the contrast, and integrate the sense of time and space into them.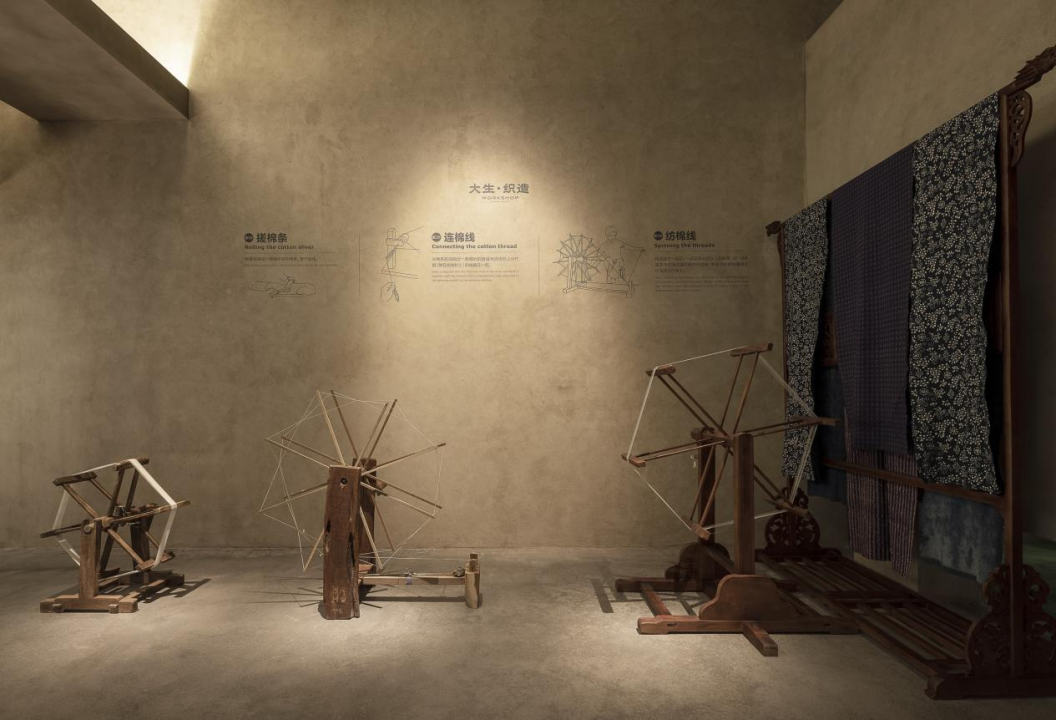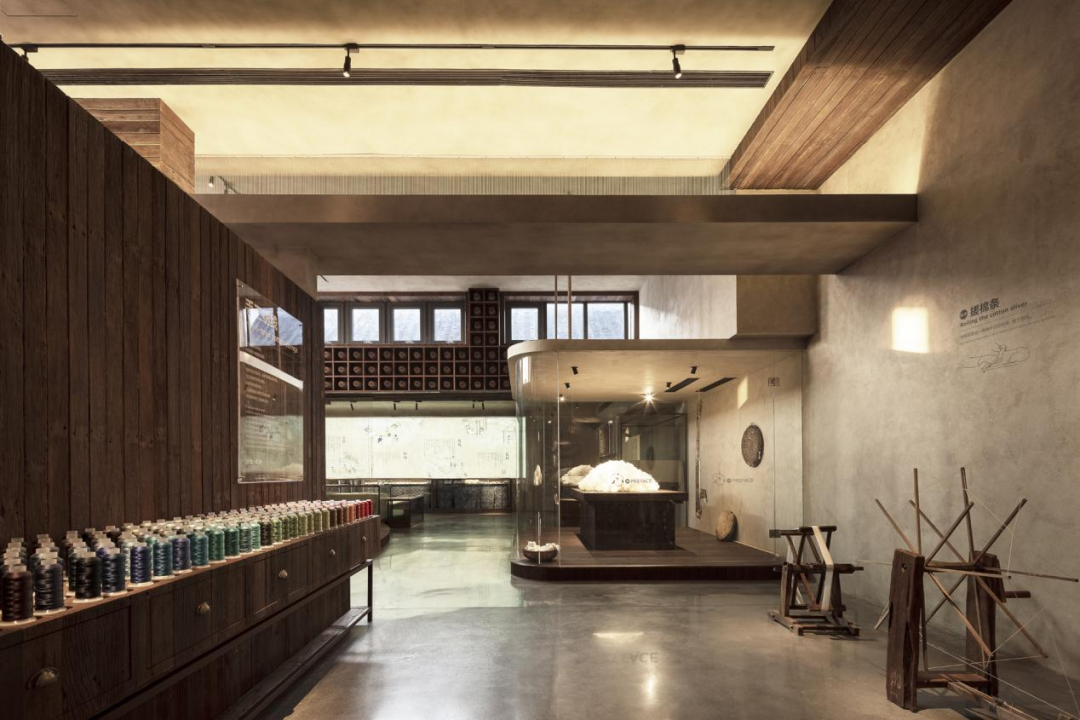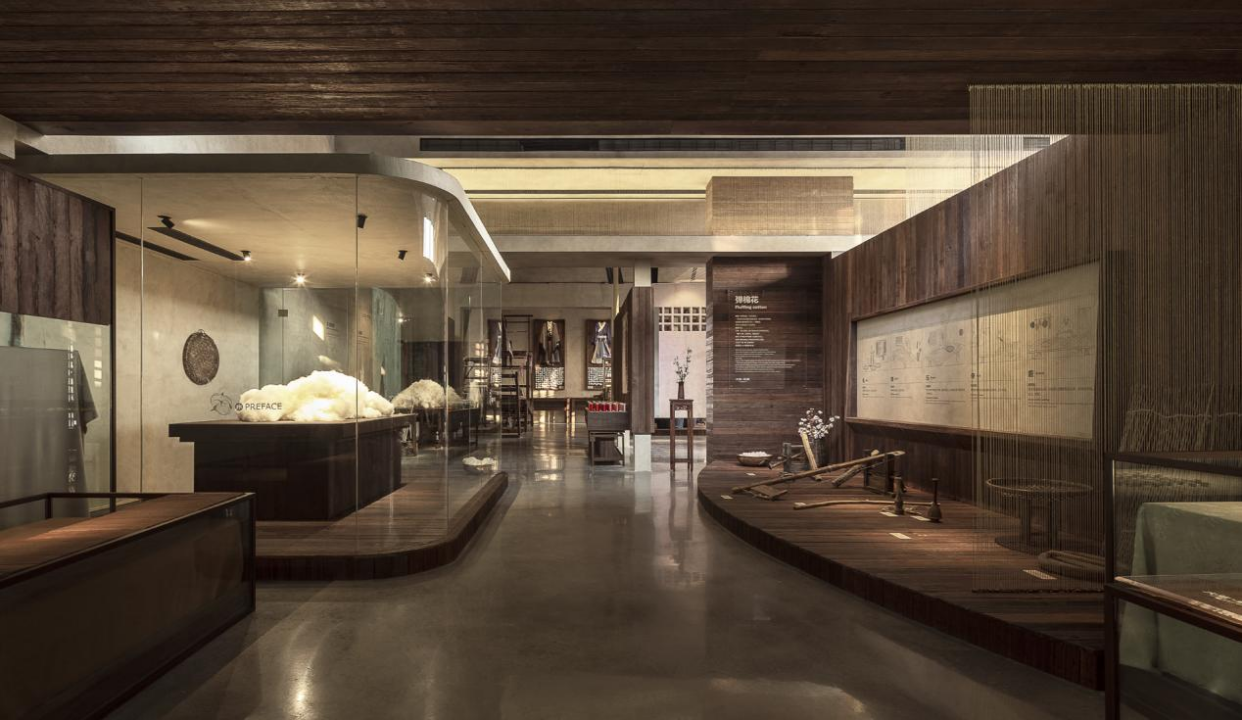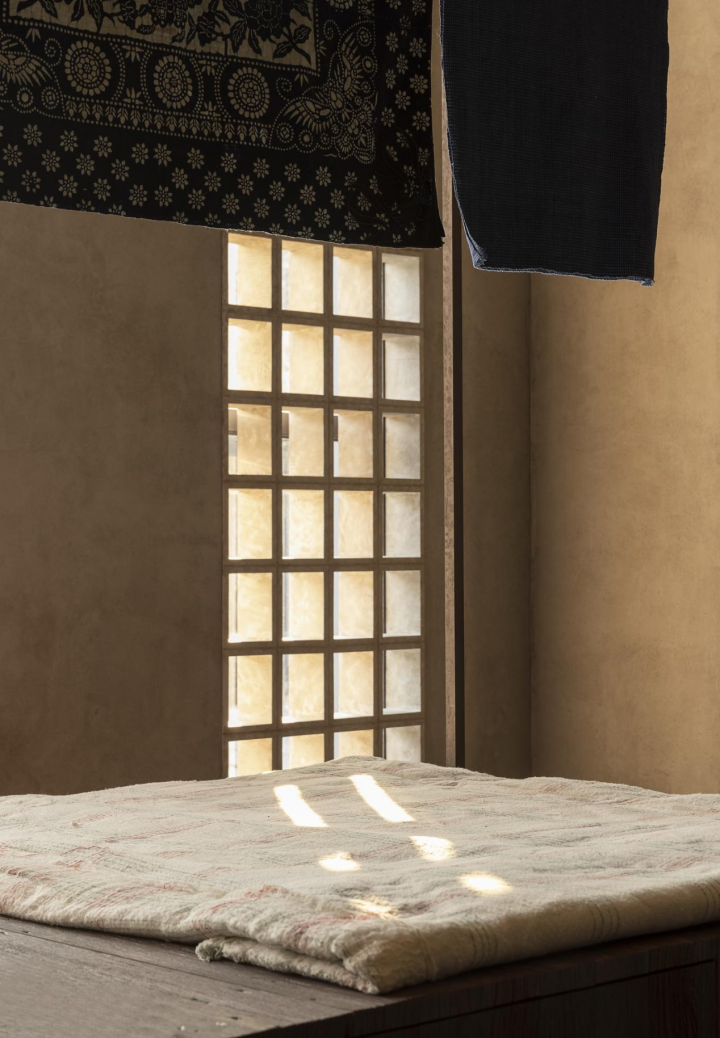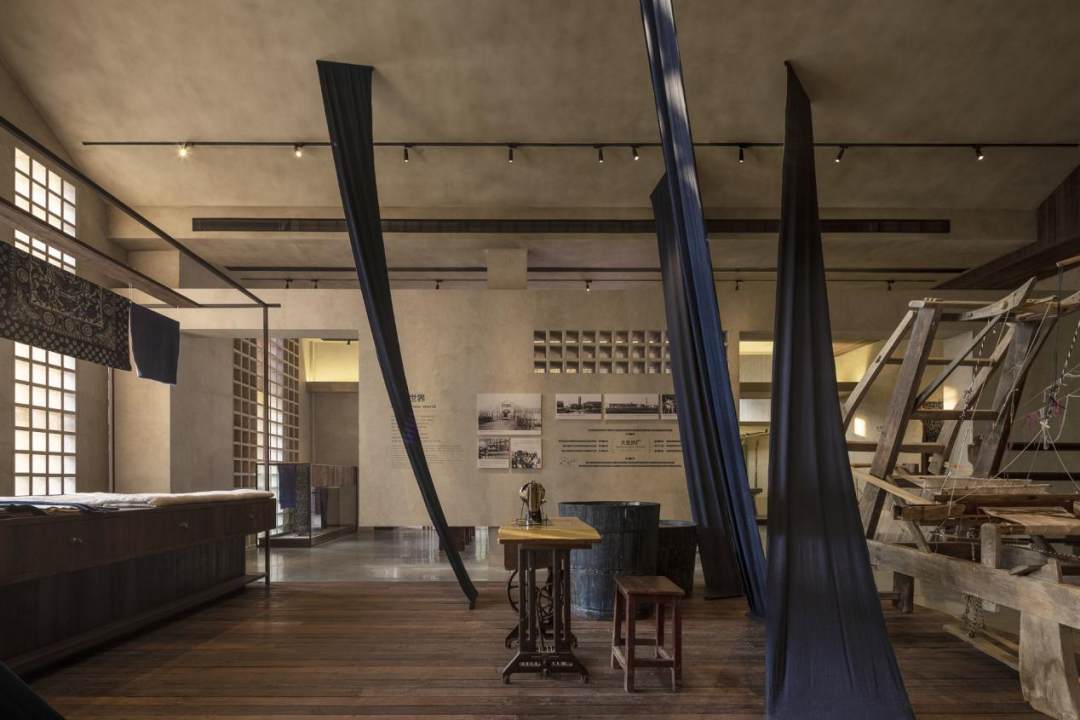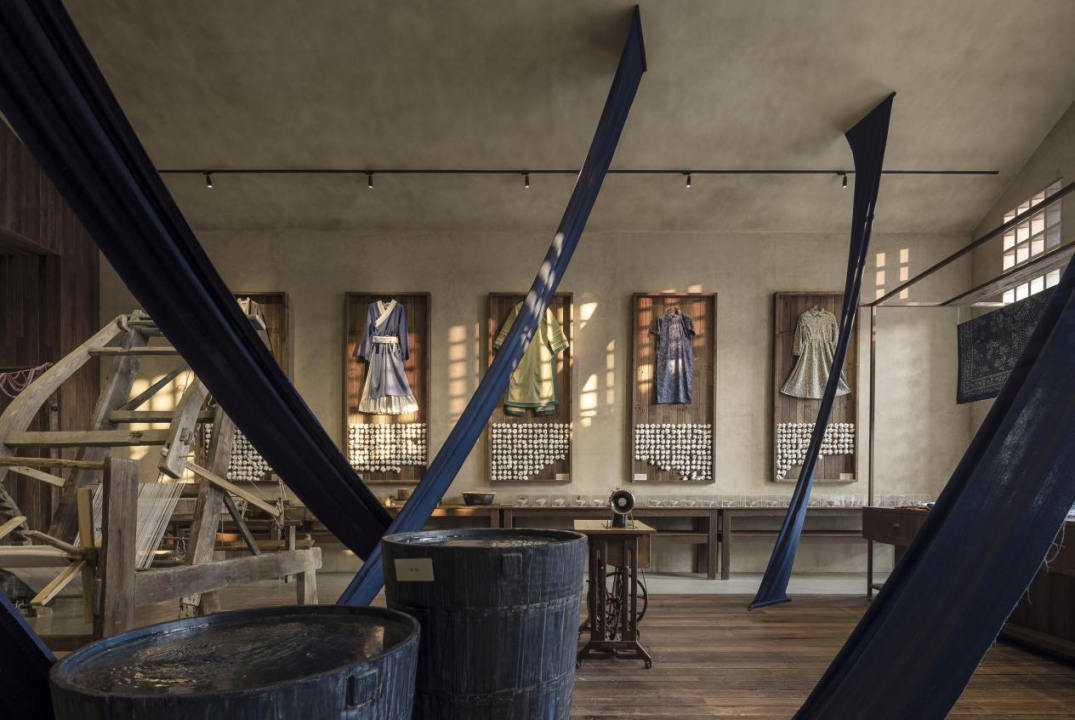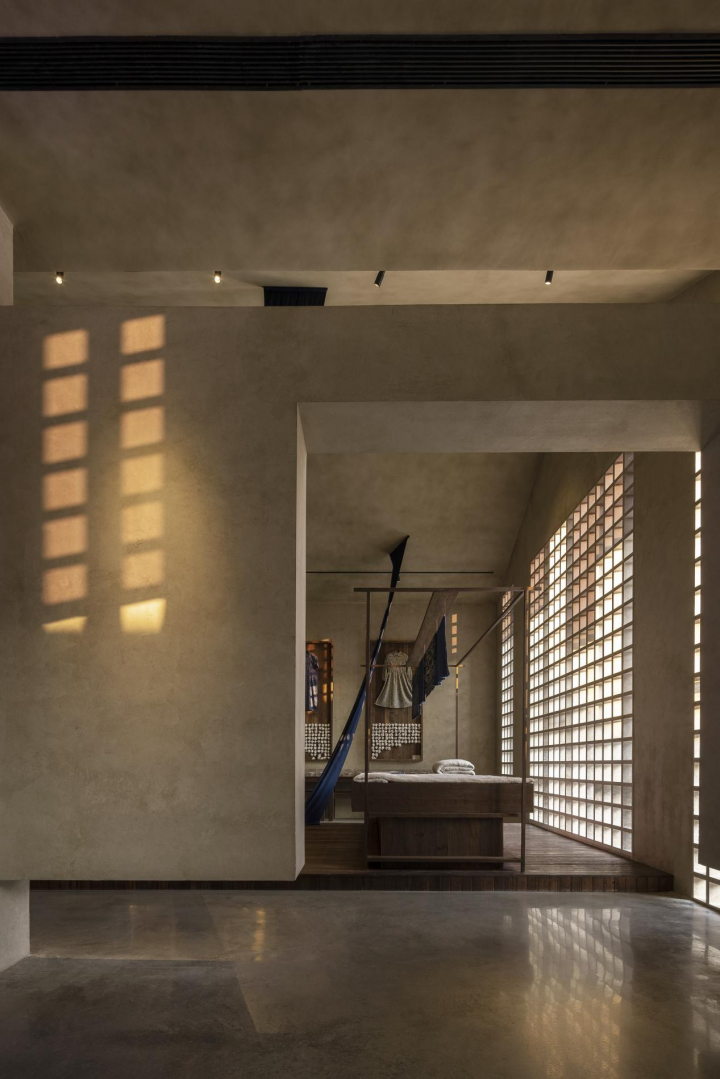 精神的力量The power of spirit
在展厅的最后部,我们还设置了一个观影区和体验区,用光影演绎精神层级的提升,画面演绎棉花的生命全周期到制作成布艺,由棉花五彩斑斓的生命引申到大自然的周而复始的生生不息与可持续发展,再到整个通海地区的繁荣景象。坚守和传承,古往和今来,手工技艺和工匠精神的传承,彰显一国的文化自信,最终实现由物质到精神的升华。
At the end of the hall, we also set up a viewing area and experience area, the spiritual level of ascension in smooth shadow, deduces the whole life cycle of cotton to made into cloth art, from cotton colourful life extension to the circle of life and the sustainable development of the cycle of nature, to the prosperity of the sea area. Adhere to and inherit, ancient and modern, the inheritance of manual skills and craftsman spirit, highlight a country's cultural confidence, and finally realize the sublimation from material to spiritual.