妈妈菜
【听见家的回响】
有家的地方,便有回响。
本次项目为餐饮品牌"妈妈菜"设计餐厅,故而以一种温暖细腻的设计语言,勾勒记忆里"妈妈"端出的那些佳肴。那些沿着石板,听溪流作响,在炊烟中恍然闻到的家的味道,总是在一阵呼声中,变得清晰可见,那走进大宅院的温情和轻松;温暖而晃动的灯光下,那几道只在此品尝过的味道,和任何地方似乎都无从比较。
Where there is home, there are echoes.
This project is designed for the catering brand "mother food" restaurant, so with a warm and delicate design language, outline the memory of "mother" out of those delicacies. Those along the flagstones, listen to the sound of the stream, in the smoke of the kitchen suddenly smell of home, always in a burst of voice, become clear, the warmth and ease into the great house; In the warm, swaying light, the flavors that had been tasted only here seemed impossible to compare with anywhere else.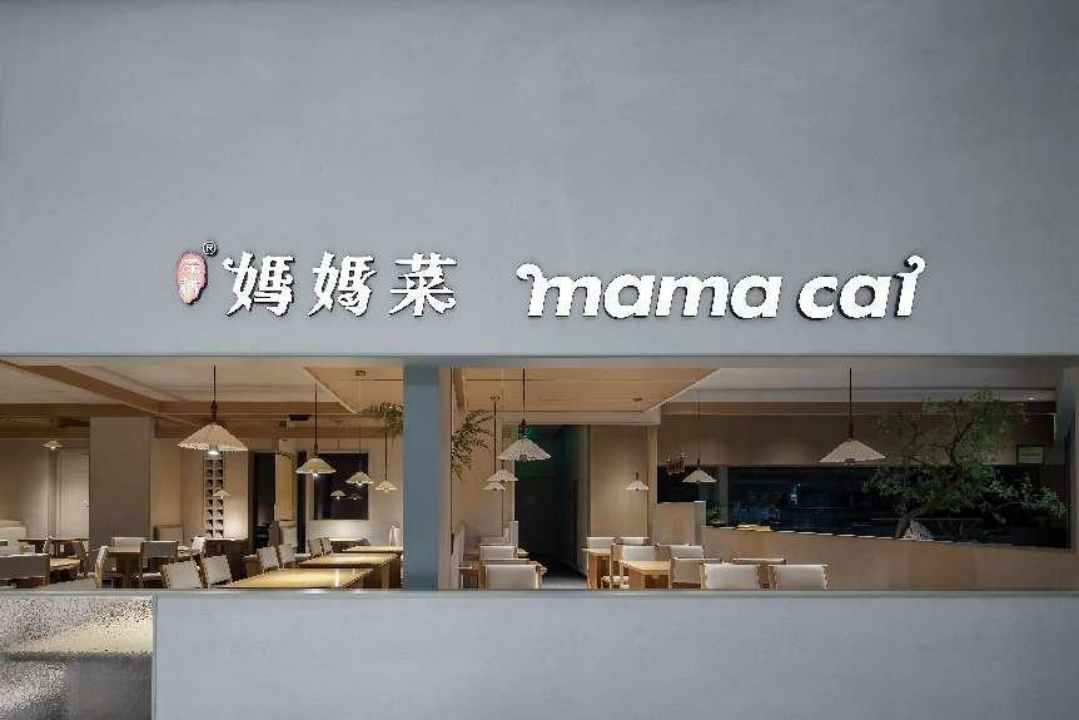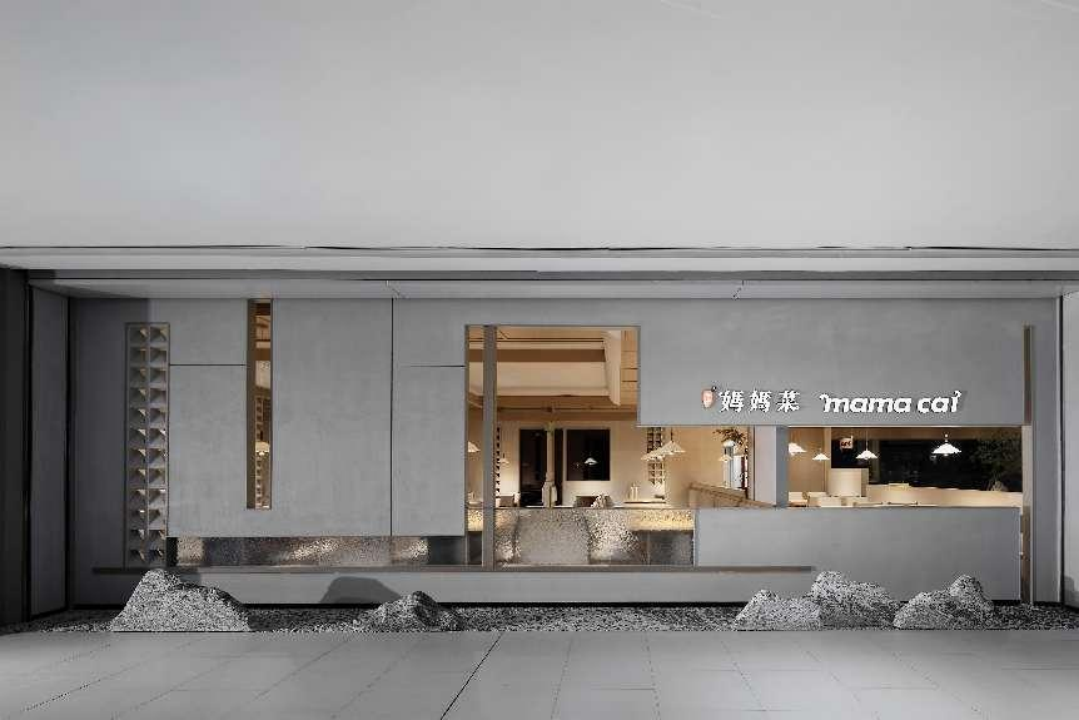 我们在餐厅的入口处,设计了室内景观。倾倒的矮树与细小的沙石,像是从乡间家门口挪来的梦境。细微而无比真实。客人可以在庭院前的休息区等待就餐,叶借着这短暂的时间和风景,将乡愁和童年回忆融入当下的现实里。
We designed the interior landscape at the entrance of the restaurant. The fallen underbrush and the tiny bits of sand seemed like a dream removed from the country door. It's subtle and incredibly true. Guests can wait for a meal in the lounge area in front of the courtyard. Ye uses this short time and view to integrate nostalgia and childhood memories into the present reality.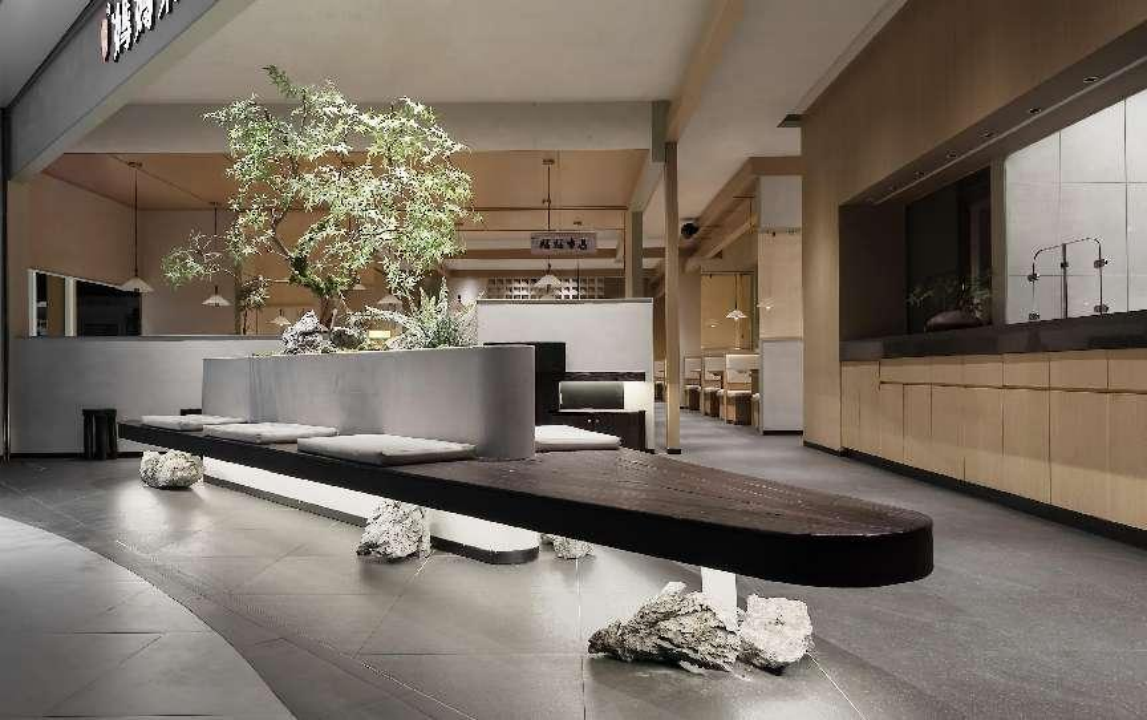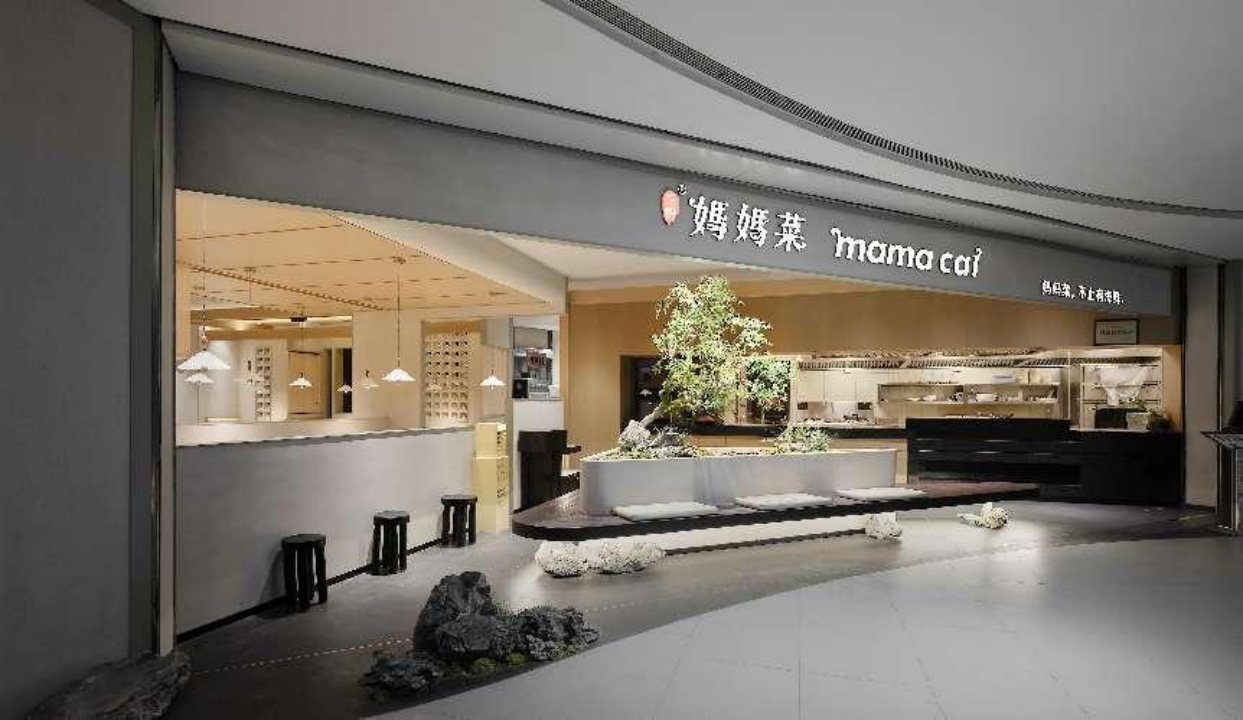 进入就餐区,我们会轻松地感受到,空间整体内外塑造的那种融合,空间与情感的关系,空间与家的关系,都将意为画境。定制的实木桌椅、复古吊灯、木桩与隐隐约约的竹帘,如走进村中每一个家的画面。
Entering the dining area, we will easily feel that the kind of integration of the space as a whole, the relationship between space and emotion, the relationship between space and home, will mean the painting. Custom solid wood tables and chairs, vintage chandeliers, wooden stakes and faint bamboo curtains, such as walking into the village of every home picture.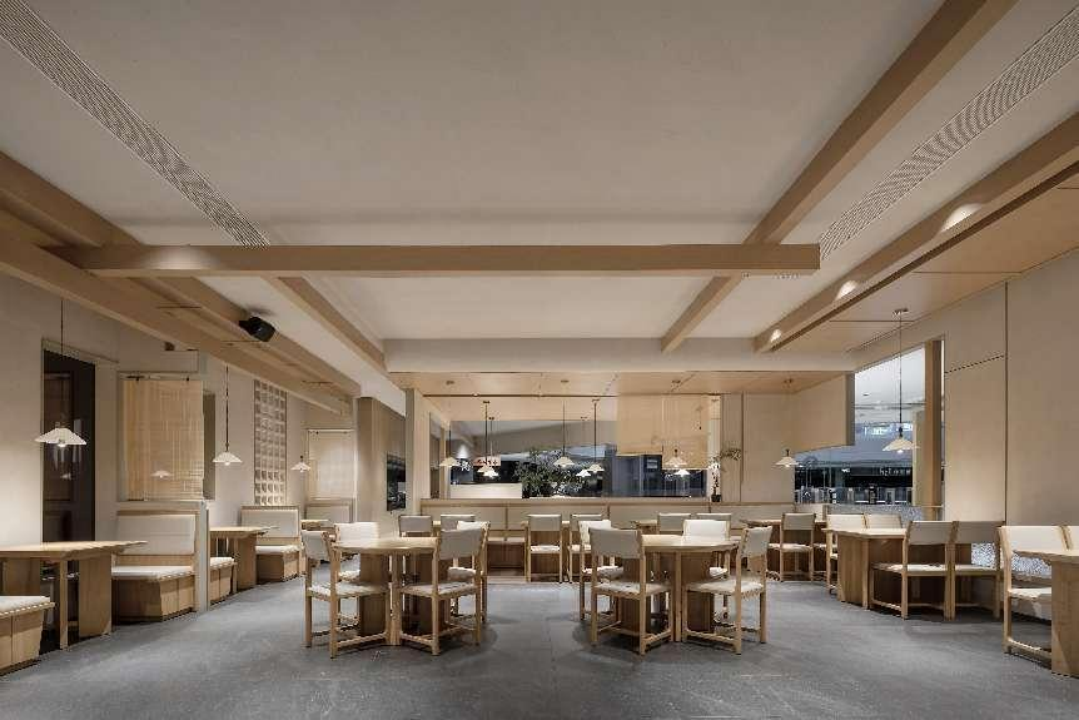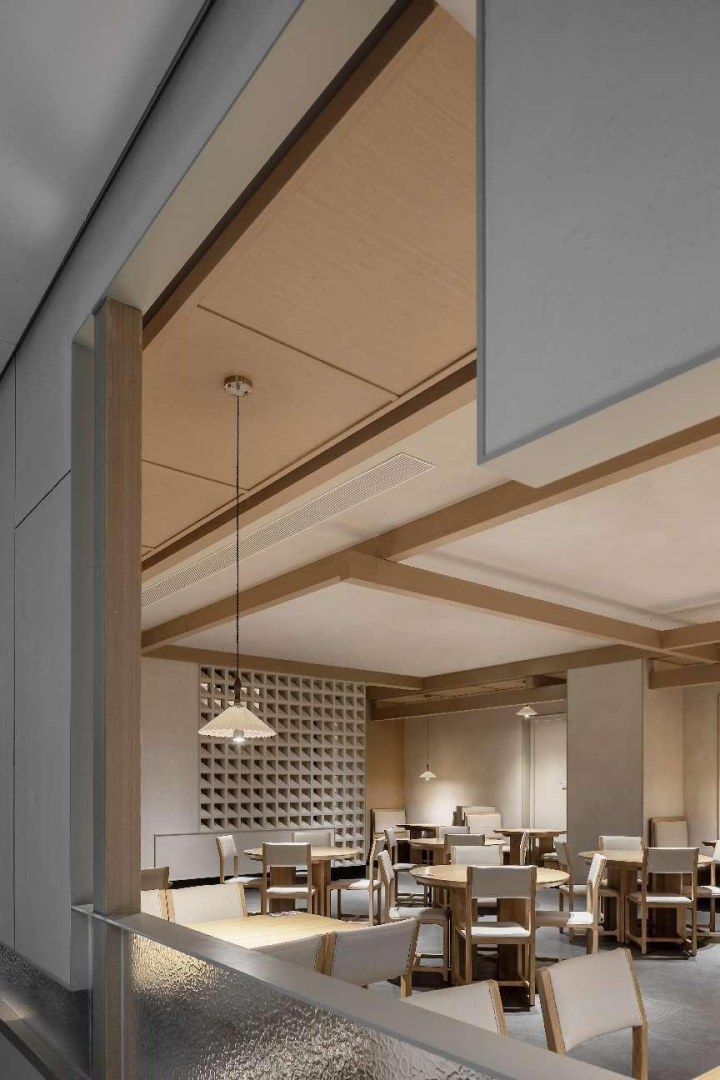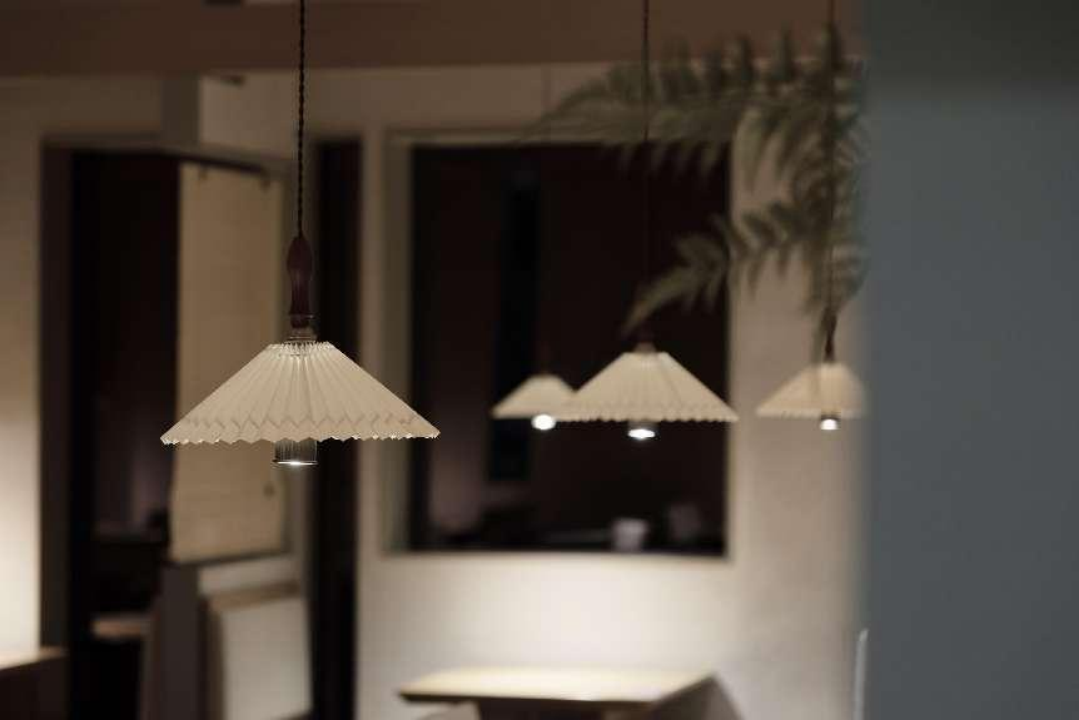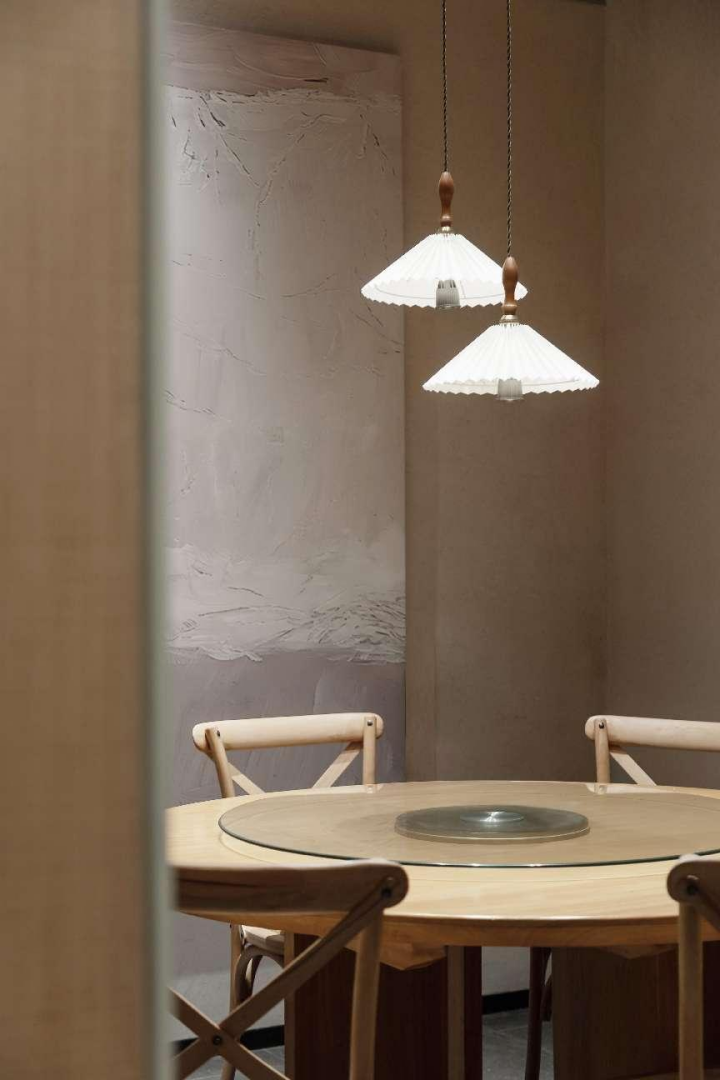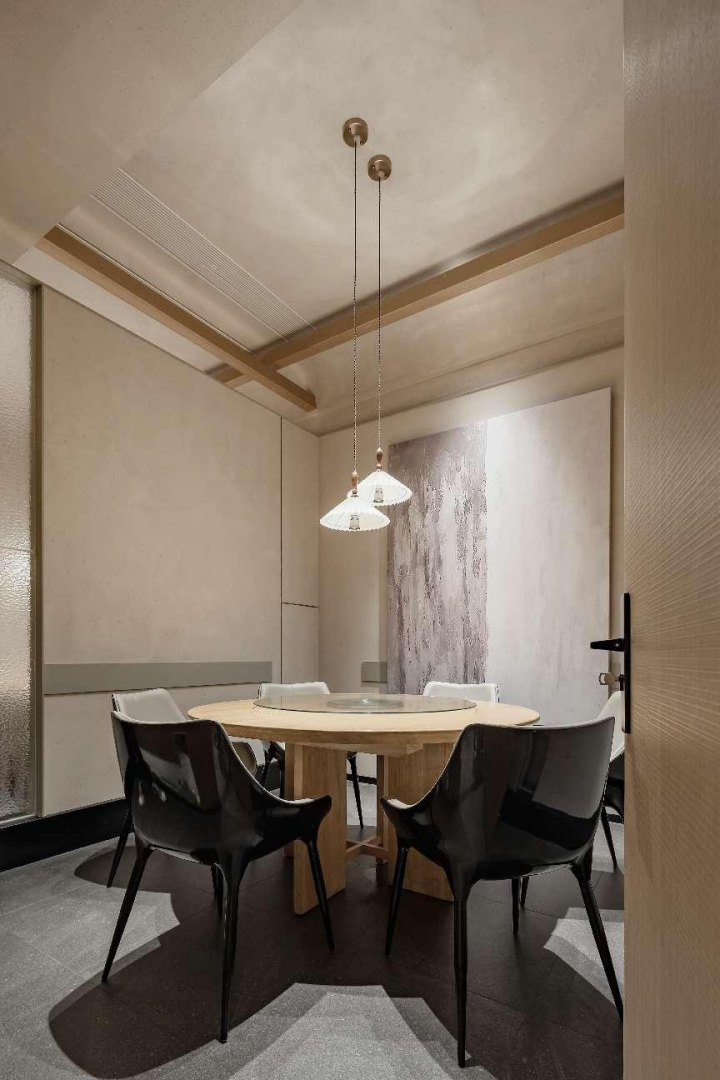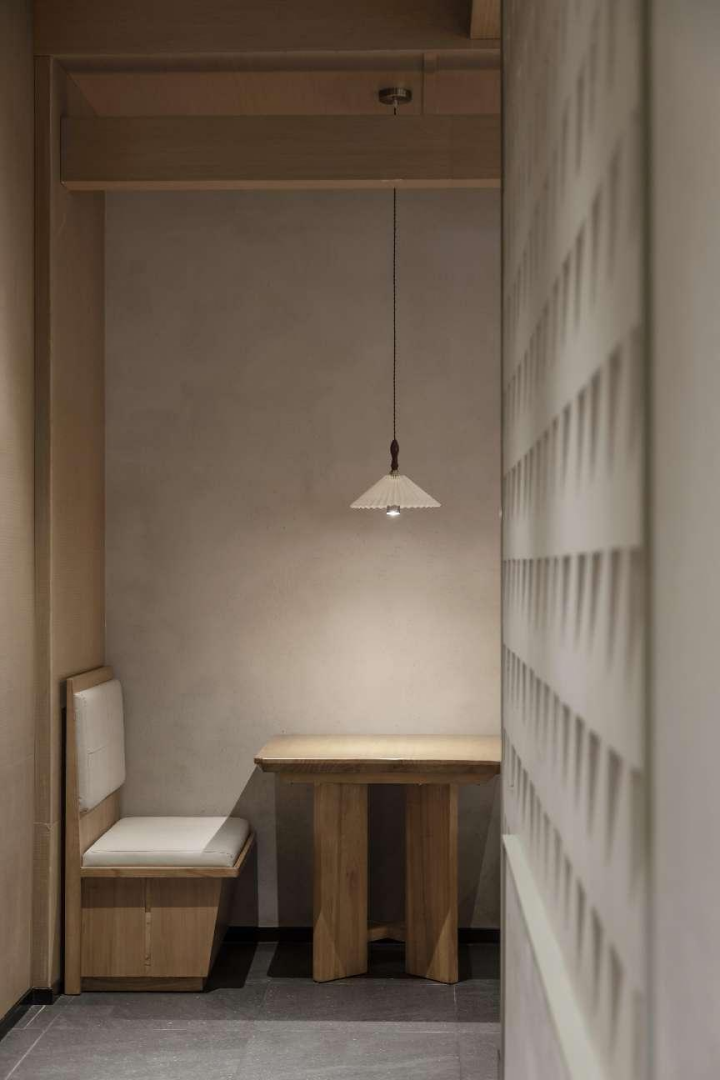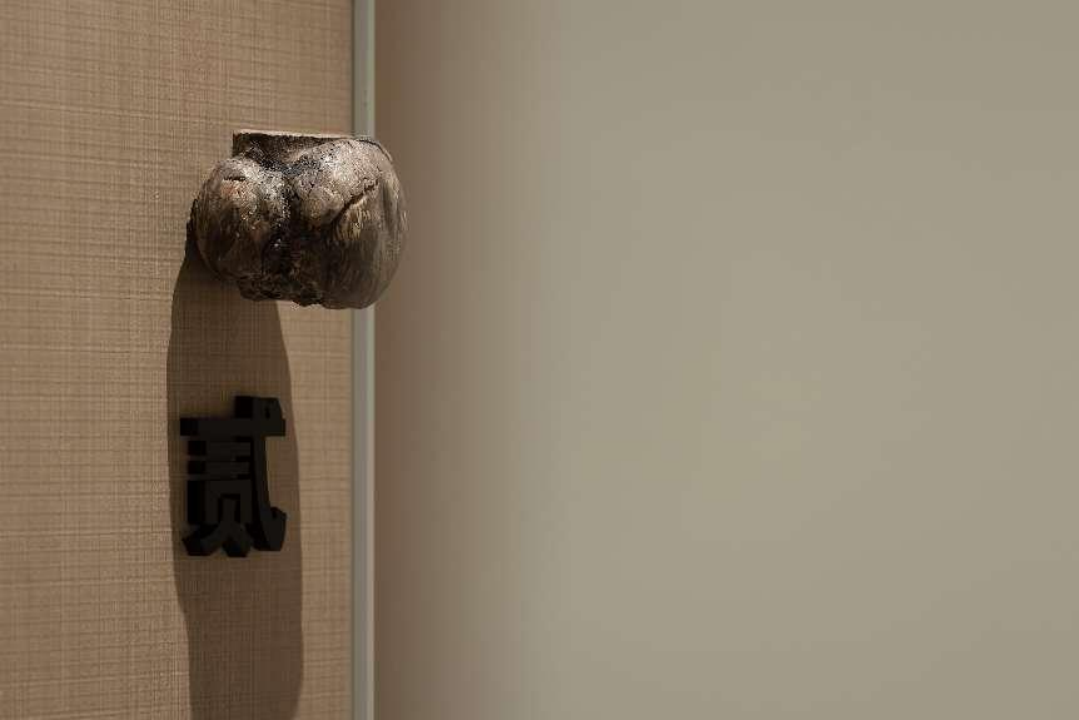 同时,在角落中我们放置许多枯木,将记忆再次具象地拉回到儿时的场景,枯木从屋面延伸而下,化身宅院中的那些树,孩提曾在树下奔跑,各家端出拿手的佳肴。紧挨着墙面的就餐区,用带有草编纹理的模压板铺饰柜台外沿与菜单墙,借助温暖色调与自然质感营造温馨的氛围。
At the same time, we put a lot of dead wood in the corner to bring the memory back to the childhood scene. The dead wood extends down from the roof and incarnates the trees in the house. The children used to run under the trees and the families served their famous delicacies. In the dining area adjacent to the wall, moulded boards with straw texture line the outside of the counter and the menu wall, creating a warm atmosphere with warm colors and natural texture.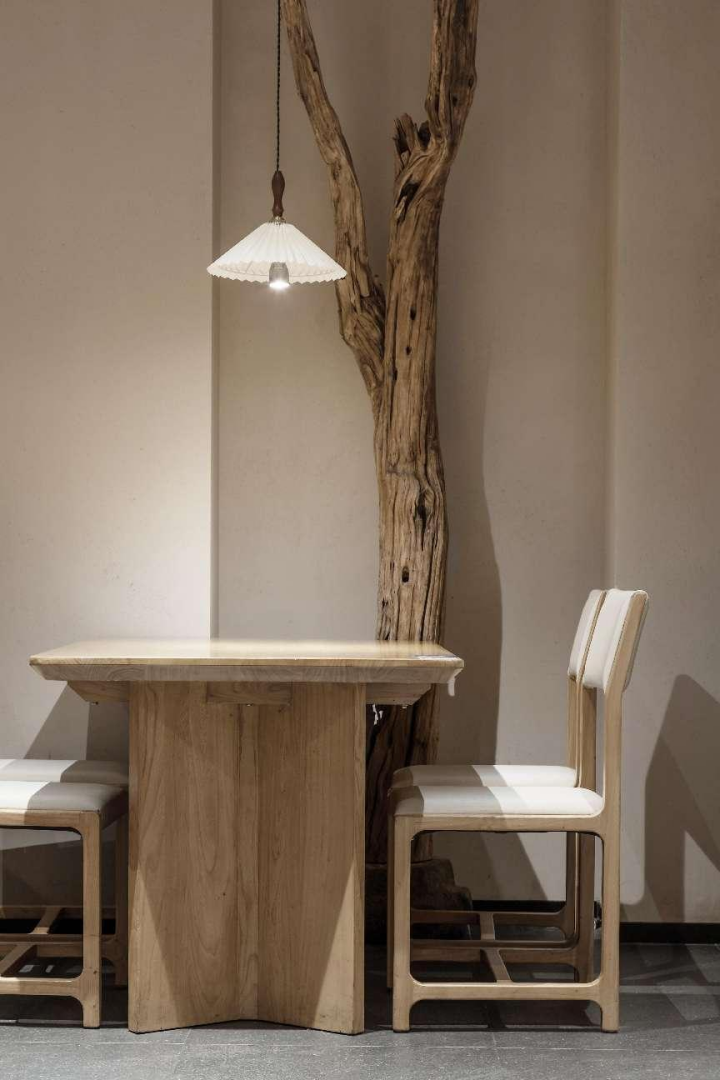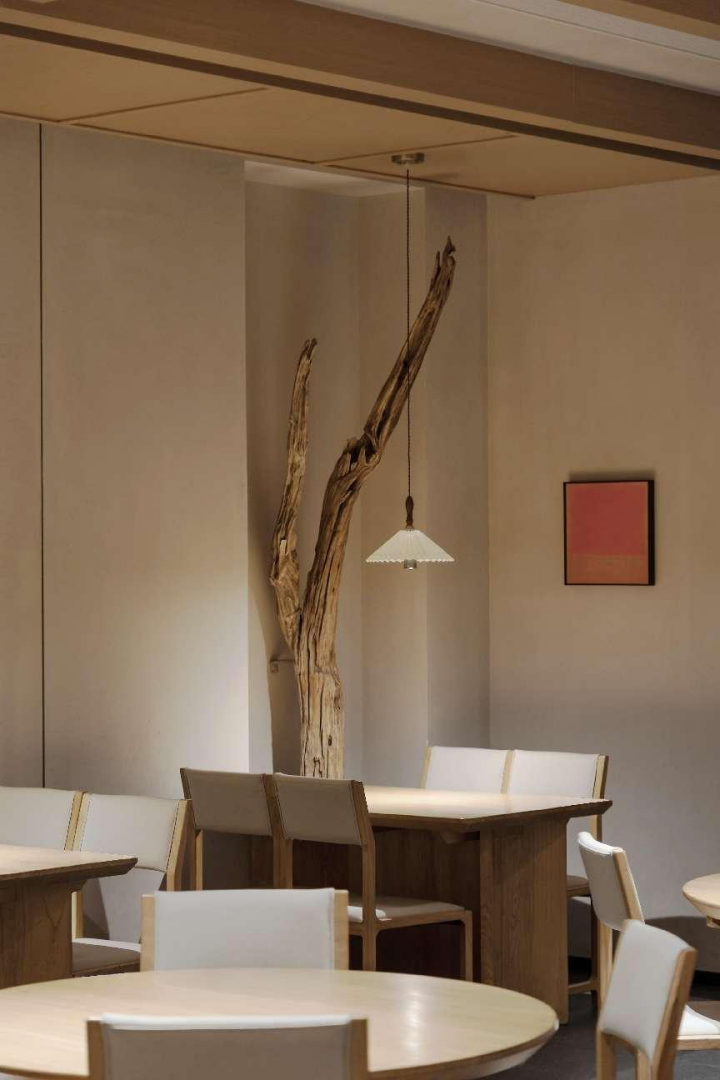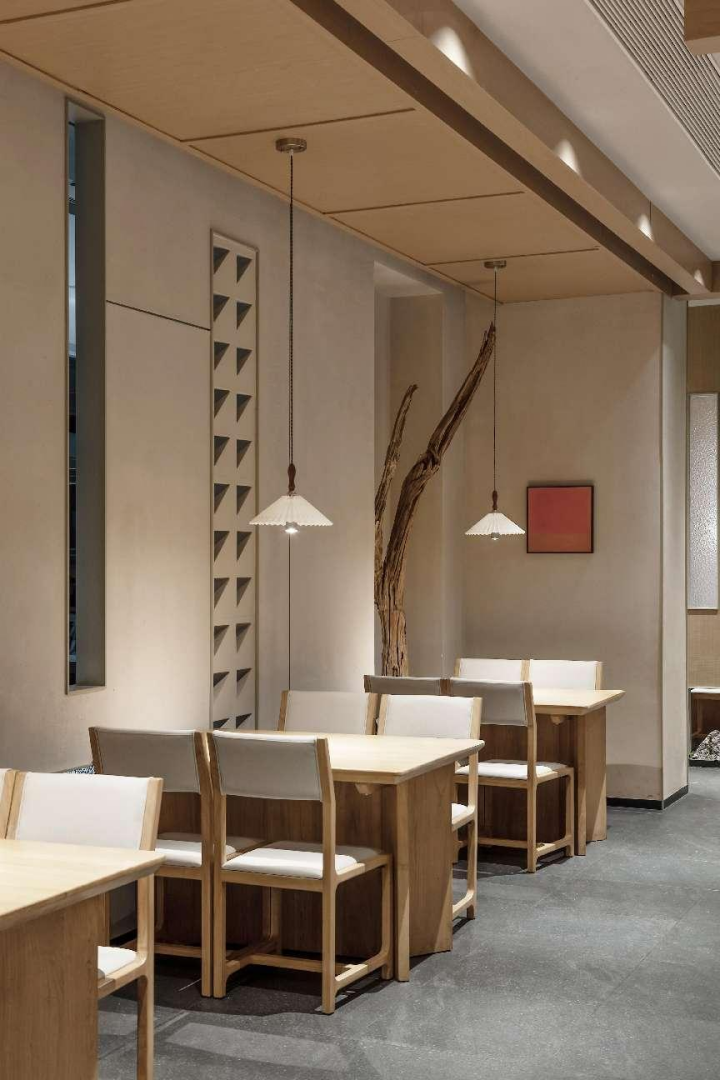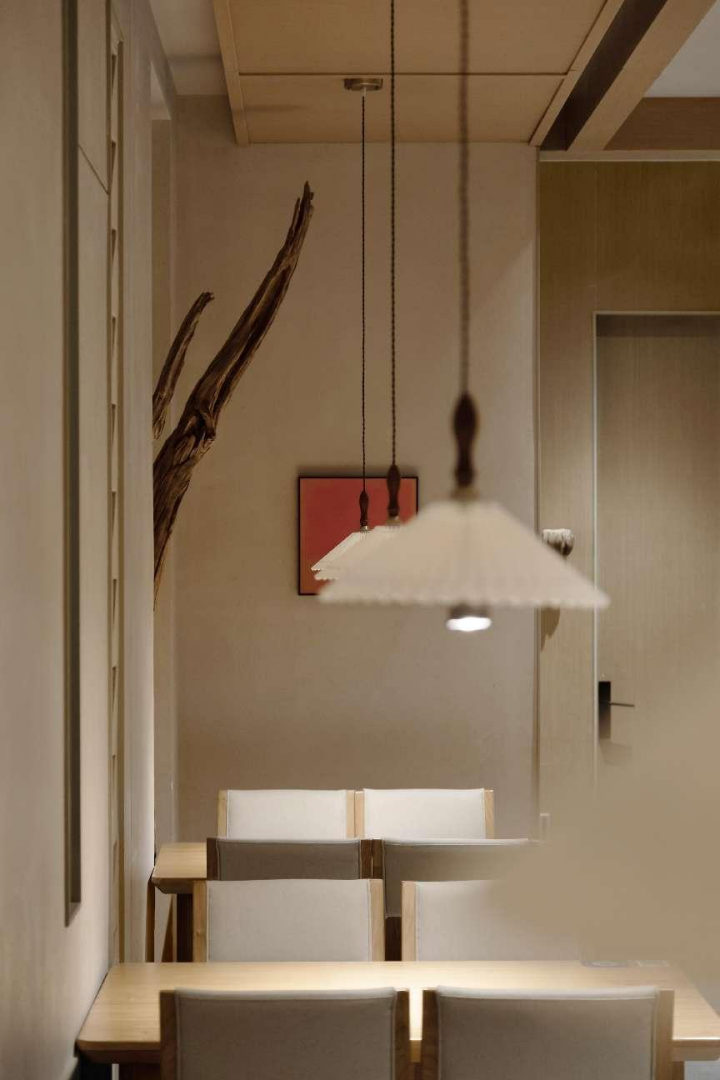 整个木框结构依照中国古建的传统结构,将梁以叠梁式的传统结构,撑起一片高挑的屋顶,让整个空间更富有"百家饭"大宅院的意味。半透的屏风被用以分隔每一个小小的区域,让整个空间都融合在了一起。从门店一侧看向店内,石经,变化的墙垣、格栅总是是不是浮现了一种移步异景的语境,回到记忆中妈妈的味道。
The whole wooden frame structure is in accordance with the traditional structure of ancient Chinese construction. The traditional structure of stacked beams supports a tall roof, which makes the whole space more rich with the meaning of "hundred family meals" big house. A semi-transparent screen is used to separate each small area, allowing the whole space to merge together. Looking from the side of the store to the store, the stone warp, the changing walls and grilles always appear a kind of context of different scenes.